ESSEX JUNCTION — The City Council is requesting community input on proposed Land Development Code amendments that would preserve the City's historic and aesthetic integrity while working to ease the housing crisis.
Changes to the LDC are made periodically, but with the large task of separating from the Town of Essex, the City put off the LDC for a few years. The State Legislature also recently passed S.100, a housing reform bill that reflects some of the same changes the City is proposing.
The LDC is a set of city-approved zoning bylaws regulating what can be built in the City and where. Changes to the LDC this year include statutory changes and six significant amendments:
1. Creating opportunities to build more housing
2. Strengthening standards for design and historic preservation
3. Adding flexibility for the provision of parking
4. Improving standards for bicycle parking facilities
5. Incorporating Green Stormwater Infrastructure and enhanced landscaping practices
6. Adjusting the Permitting Fee Schedule to reflect the cost of processing and review better
The amendments were drafted by the Essex Planning Commission with input from the Chittenden County Regional Planning Commission.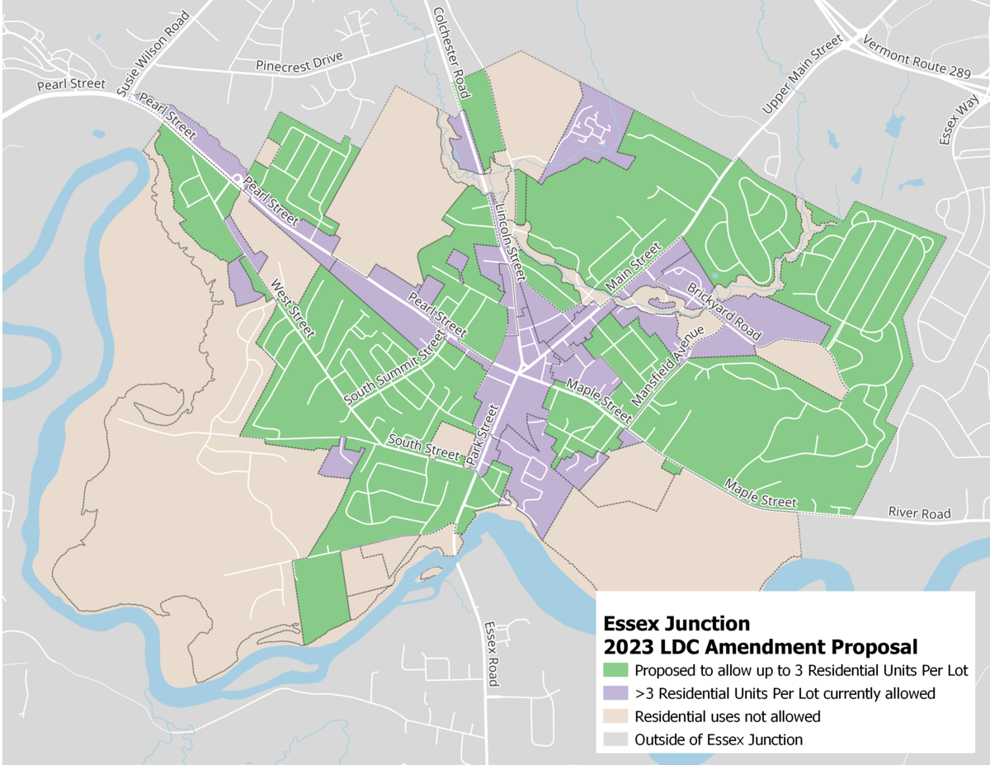 Create opportunities to build more housing
To address the severe housing shortage seen in Vermont and throughout the U.S., one proposed amendment would allow opportunities for the creation of new homes throughout much of the City by:
Allowing up to three dwelling units per lot in residential zoning districts (R-1 and R-2)

Allowing increased density in the multi-family residential districts (MF-1 and MF-2)

Simplifying and improving the Accessory Dwelling Unit approval process

Adding special standards to maintain the aesthetic characteristics of residential districts
In order to maintain aesthetics of established residential districts in the City, the proposed additional units would only be allowed within one building, covering no more than 30% of the area of the lot.
With increased dwellings come increased cars. The proposed amendment states parking would not be allowed to take up more than 30% or 20 feet of the linear frontage of the lot, whichever is less.
"This means that parking would sometimes have to be placed at the side or rear of duplex and triplex properties," the City's webpage states.
Why do we need more housing?
Chittenden County's population increased by 7.5% from 2010 to 2020, according to U.S. Census data. This is more growth than any Vermont county. With the increased population has come an increased difficulty in finding housing.
The rental vacancy rate in Chittenden County was .4% in 2022, which has been continuously declining since 2016 where it was at 4.4% which is still not a "healthy rate" of 5% according to the Champlain Housing Trust.
"To house a growing population, we must create more ways to build housing and efficiently use space," the City of Essex Junction LDC webpage states. "The proposed amendments would enable this in several ways."
Some of the consequences of the housing shortage the City has noted include
Some renters are being priced out of the City while those who remain are spending an increasing portion of their income on rent

Homeownership is falling out of reach for many people

Businesses are having trouble hiring qualified employees

People are having to live further away from work, extending time away from their families. Longer commutes are adding traffic to our roads and increasing our climate impact
Strengthening standards for design and historic preservation
"Essex Junction is growing quickly, and the new structures built today will likely be a part of the urban fabric for decades to come," the City's webpage states.
Current architectural design review standards set for buildings to maintain a certain historic design are only imposed on buildings in the Village Center.
The proposed amendments would branch these standards out to the "trunk routes," or major roads, of Main Street, Lincoln Street, Pearl Street, Park Street and Maple Street to form a new Design Review Overlay District.
"Under the proposal, new development along these corridors will be required to show thoughtful architectural design that serves both form and function," the webpage states. "This includes features such as the location and placement of architectural details, the front façade, the consistency of the street edge and the choice of visible building materials."
The proposed amendments would also work to create a more pedestrian-friendly atmosphere and clarify eligibility for historic preservation.
Adding flexibility for the provision of parking
"A parking space itself takes up about 180 square feet, but when ramps, driveways and access paths are taken into account, it's closer to 300 square feet per stall," the City's webpage states. "When building new homes in space-constrained cities, we increasingly have to choose between housing more people or housing more cars."
In order to reduce construction costs and to ensure there's more space for possible housing, the amendments propose reducing the minimum parking for residential uses from two required spaces to one.
The amendments also propose making better use of existing parking lots with shared parking arrangements, such as office parking using a lot during the day and restaurants using the lot at night.
The complication of limiting parking was briefly discussed at the May 10 City Council meeting, when the council acknowledged the lack of consistent public transportation through Green Mountain Transit.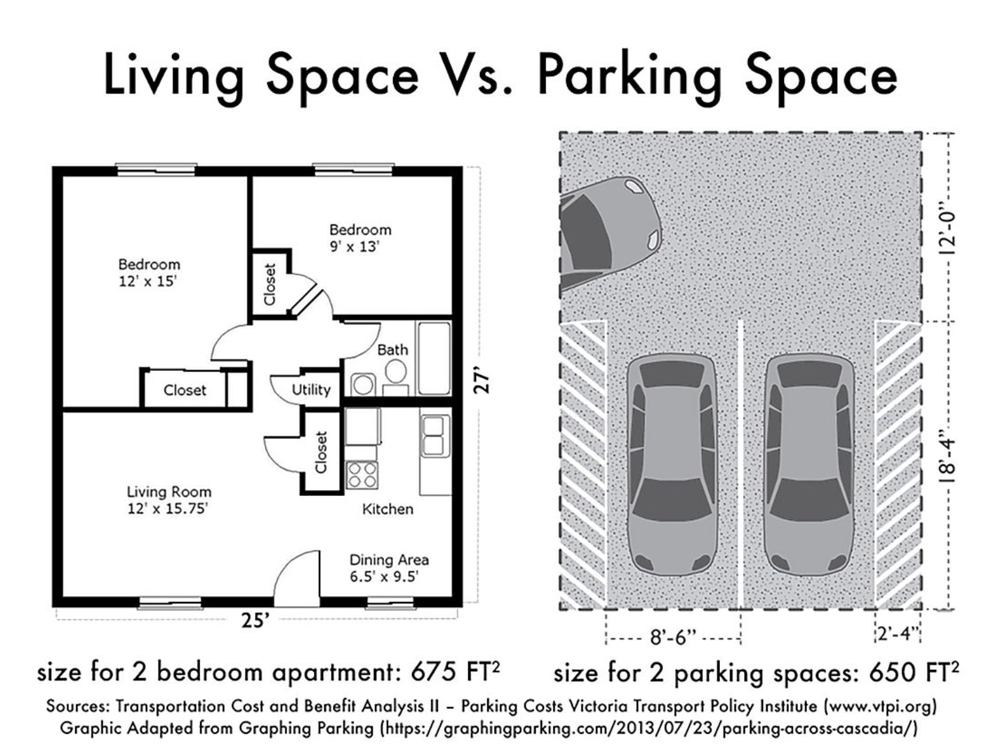 Improving standards for bicycle parking facilities
To make cycling a viable option for more people, the LDC amendments propose short-term and long-term options for people to park their bikes.
Short-term options would require visible and conveniently located bike racks in most new developments and existing buildings that undergo major changes.
Long-term parking would be secure, weather-protected spaces for bicycle parking in new mixed-use, commercial or multi-unit residential buildings.
Incorporating Green Stormwater Infrastructure and enhanced landscaping practices
Traditional infrastructure used to deal with stormwater runoff is referred to as "gray infrastructure" which the Vermont Agency of Natural Resources Green Stormwater Infrastructure finds does little to improve the water quality.
"Green infrastructure refers to natural and human-made design features that filter and absorb stormwater where it falls to prevent heavy metals, trash, and other pollutants from being washed into our rivers and lakes," the City's webpage states.
The proposed LDC amendments would "enable and encourage" stormwater infrastructure through enhanced landscaping such as street trees, and installing green roofs, stormwater retention ponds, and bioswales (landscape features that collect polluted stormwater).
Adjusting the Permitting Fee Schedule to reflect the cost of processing and review better
"We are proposing some increased permitting fees to align with the costs of review, services and state statute changes," the City's webpage states.
How to give feedback
Residents are invited to look through the City's webpage on the amendments and give feedback in a short survey which will be open until June 7. Residents can also voice their concerns and questions at the public hearing on the proposed changes June 14 at 2 Lincoln Hall, time to be determined.
For more information on the changes, the Planning Commission has drafted an overview of the changes here. For additional information on the LDC amendments, contact Chris Yuen, Community Development Director, at cyuen@essexjunction.org or 802-878-6944.