There was some commotion on South Street last Thursday in the area of Hiawatha Elementary School.
While it was a surprise to one local resident, neighbors who know about Jon Harris' longtime tenure as an educator might not be shocked to find out that the noise was his friends and colleagues driving by to wish him well in the early days of his retirement.
"It was awesome," said Harris, who recently capped a tenure which saw him teach at Mount Mansfield Union (MMU) High School for over 40 years. "It was a total surprise."
Harris had been at MMU since 1978 -- never leaving the job he got shortly after graduating from Keene State University in New Hampshire. Originally being hired as a fine metals teacher, the New Jersey native later became a teacher in technology and design and fine arts. For about the last 30 years, Harris co-taught with science teacher Dan Tolle who helped facilitate and make Thursday possible.
Harris says he was sitting in his family room when he saw Tolle pull up in front of the house. A minivan followed, and the colleagues got out of their vehicles with a blanket, a Vermont folk rocker, and a couple of potted plants. The items were then carefully set up with the chair sitting on the blanket and facing the road -- being flanked by the two plants.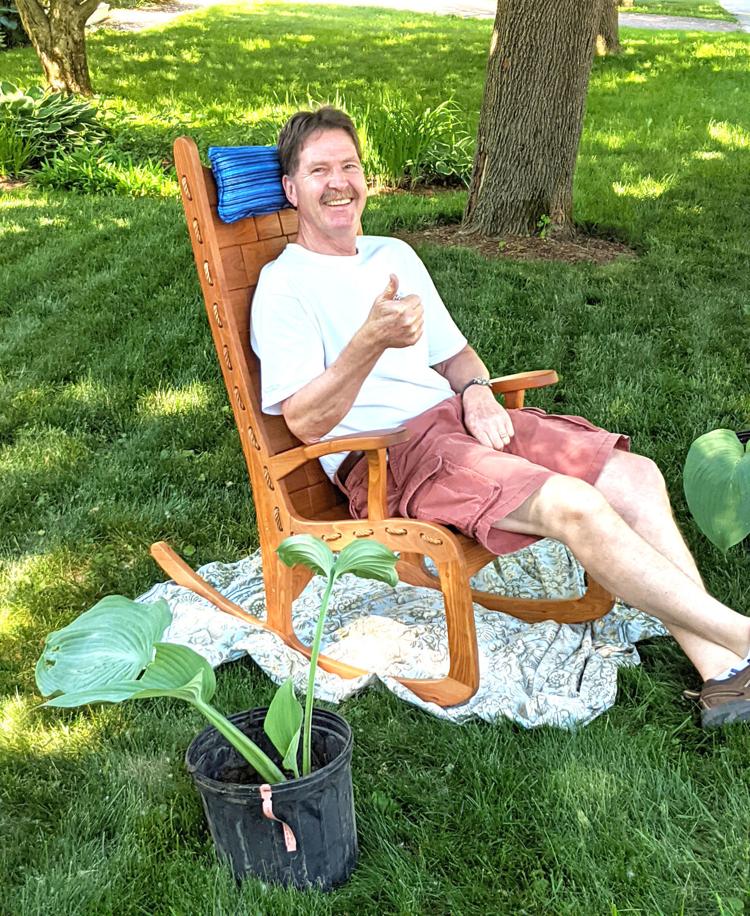 "My wife said, 'I think you'd better go outside,'" Harris recounted. "So I went outside, sat down on the rocking chair in my front yard, and looked down the street. And a parade of cars honking came by with windows down -- all decorated on the outside. It was just absolutely spectacular."
The short comment was not the only involvement from Harris' wife, Linda Streeter -- who retired from MMU herself eight years ago -- as she was instrumental in making sure Harris was home and not preoccupied for the 10 a.m. visit. He said she was racking her brain right before -- thinking of ways to get him off the phone as he was calling insurance agencies to compare prices that morning on a whim. It just so happened, however, that he hung up 10 minutes prior to the parade and went to a room with a view of the road.
Another present given to Harris was a caricature of him, drawn by artist, friend, and MMU substitute teacher Mark Hughes, which included references to stories from the past 42 years. Along with that was the gift of Harris being able to see his friends and coworkers in person -- something he had not done since mid-March. In the time since then, he had only seen mini, digital faces during staff meetings over videoconference.
"When you have 72 people," he said, "with all these tiny little squares across the screen, as one of our staff members said at the first meeting, 'This is what a fly sees when they look out of their eyes.' So, I had [only] seen them virtually; it was just absolutely, incredibly moving."
Asked what about it that kept the 31-year Essex resident working at Mount Mansfield for all those years, Harris couldn't point to just one reason.
"It's a combination of things," he said. "It's the kids, it's the community, and then it's the staff. We have an incredible teaching staff here at Mount Mansfield, a very supportive community, and just an incredible group of kids. And we have an administration that embraces curriculum and curriculum changes, so I've been able to -- over my career -- just create new classes and try new technologies. It's a combination of an absolutely fantastic work environment. I jokingly say, 'I come to work and play.' The environment here is just so conducive to education and fun."
The current global situation is well suited for one of Harris' retirement plans: doing projects around the house. However, it has caused one of his more ideal plans to be put on hold: travelling.
Harris and his wife were getting ready to go on trips to Italy and Hawaii and take a cruise around Iceland, but he remains optimistic that they'll still be able to one day go abroad.
"I am convinced that once this gets figured out, we will definitely be able to fulfill all of those dreams," he said."
In the meantime, Harris will be able to sit back and relax in his new chair.
"I'm just so fortunate to have such caring people that came," he added. "Even with a pandemic, for them to organize something like that for me was just absolutely overwhelming."