It's not a figure of speech to say that there was a "ton" of food collected through Essex on Sunday for a local food pantry. Actually, there were 2,616 pounds of food picked up along a parade route created, and then driven, by members of the community--according to the scales at Aunt Dot's Place food shelf.
Serving as the caboose for the parade was a moving truck owned by Matt Lumsden Real Estate--picking up the food and supplies throughout the town. The final amount of donations was even more than what the food pantry reported as there were additional items dropped off at the real estate company's office following the delivery of the main haul. There was also nearly $100 in monetary donations pulled in for Aunt Dot's.
"It was a great event," said Darrell Langworthy, local military veteran and owner of MARK BBQ and Heart n Soul by MARK BBQ restaurants, who thought of, organized, and facilitated the parade. "We had an extremely-large turnout as far as people participating. I was pretty excited hitting the neighborhoods and seeing all the people out; that was really nice too, because that's what it was all about--celebrating Memorial Day by giving that sense of normalcy for people right now with everything going on."
After announcing his idea, it didn't take long for members of the public to reach out and express their desire in participating.
"When we put the call out for vehicles and people to join us, it was met so quickly," he said. "We had so many people interested in being part of it. So to go from that to being a full-functional event -- and not using one tax dollar to do it -- was pretty amazing. I'm still at a loss for words for how great it was today."
One of those interested was Lumsden who drove his company's truck in the town's Memorial Day parade last year and collected food for Aunt Dot's as well. He says that they only gathered about 300-400 pounds of food in that scenario.
"Our business is about giving back to our community" said Lumsden, "and we just really didn't want to miss an opportunity to give back in such a time of need. Looking to the front of the van and seeing the people lining the streets with bags of food really was emotional. It was just a great day."
Joining Lumsden in hanging off the back of the truck and snagging bags of goods off the sidewalks was Erica Sherrod, his partner and office manager for the real estate firm.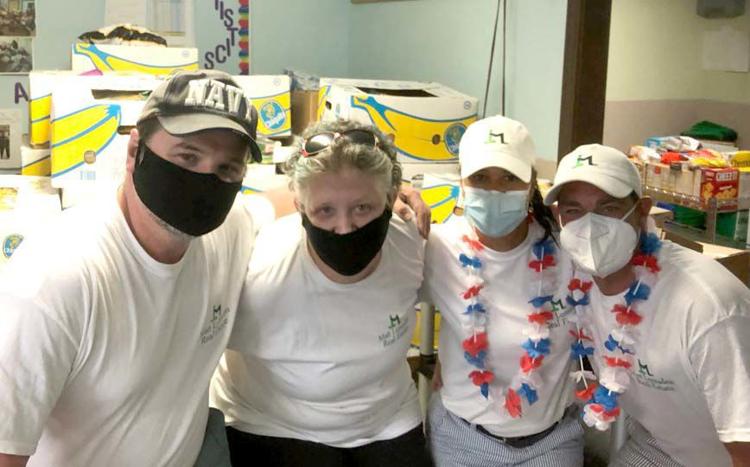 "The community just came out in full force and said, 'Let's help our neighbors," said Sherrod, "and that's what we want to do--neighbors helping neighbors."
Lumsden, Sherrod, and Keri and Paul Evert -- who are longtime friends, considered family, and helped chauffeur on Sunday -- were all able to notice the additional ton being added throughout the day.
"We could just feel the weight in the van," said Lumsden. "We could feel there was a lot less space in the van to move around. And it just didn't stop; every time we turned the corner, there was someone that was donating food, and we could not be more blessed or more grateful for the people of our community to come out and support Aunt Dot's Place."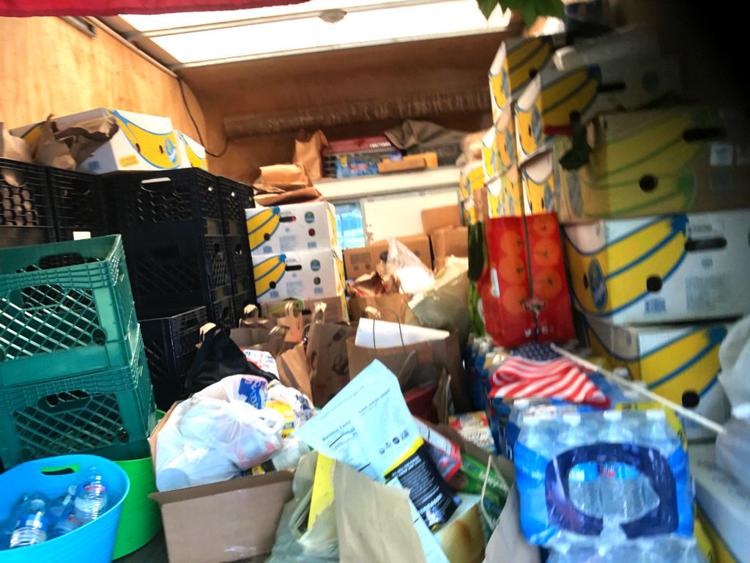 Following the drop off, the Aunt Dot's staff got to work weighing and sorting the donations. They didn't seem to mind spending the Sunday afternoon of a holiday weekend that way.
"We can't begin to thank Darrell and MARK BBQ for all he's done for not only the parade--but he helps us month-after-month," said Kitty Daly, treasurer of Aunt Dot's. "He has just been a [continuous] support for us and is really a great community member. Matt Lumsden, too, because he is also one who continuously gets money or food for us.
"We will fill our shelves, and these boxes will be more full than ever," Daly added, looking at the pre-packed boxes the food pantry has been putting together in order to carry out to clients--instead of having people go inside like usual. "It's much more than I expected. The post office does a drive once a year, and it comes out to about 3,000 pounds--and that's picking up from every house in the town. So just driving through 10 miles of the town, we were shocked that we came up with that much."
Leading the parade was one of the MARK BBQ-detailed pickup trucks--a staff member wearing an inflatable pig costume riding in the back. It also consisted of various Jeeps -- some from Goss Dodge -- classic cars, motorcycles, sports cars, and even a couple military vehicles--one being a unit that's used to move tanks. Langworthy was joined in the procession by those who shared his history of military service.
"Most every one of them was a veteran or connected to a veteran in some way," he said. "It seemed like they felt the same way that: during all this time, we have to try to keep some normalcy with things that would normally happen around here. Afterwards, they were thanking me for putting it together, but honestly--the thanks goes to them for showing up and being part of it. They're all looking forward to us doing it again."
Langworthy indicated that he might be doing something similar during the summer--especially if the Fourth of July fireworks are to be cancelled as well.