Happy Friday! I hope you've had a good week, and that you and your families are staying safe and healthy.
There is so much to do this weekend, so let's get right to it. 
Spend a free Friday night at the movies with family-friendly feature "The Incredibles." Up to four people per group will be provided a socially-distant spot on the lower field at Maple Street Park. Pre-registration is recommended, and night-of registration is only available on a limited basis. Learn more and register through the link above.
Perennial Plant Swap, 10 a.m.-12 p.m., Saturday, Sept. 26 — Colchester
Liven up your garden or front steps with a new plant from the Burnham Memorial Library's Perennial Plant Swap. In a labeled container, bring a plant and see what your neighbors bring to exchange. Swapping will start at 10:00 a.m. The library asks swappers to refrain from bringing Orange Daylilies/Ditch Lilies or invasive plants. Please wear a mask and keep your social distance. 
National Car Seat Check Saturday, 10 a.m.-1 p.m., Saturday, Sept. 26 — Shelburne
In recognition of Child Passenger Safety Week, the Chittenden and Franklin county Safe Highway Accident Reduction Program (SHARP) is inviting members of the public to join them for the re-opening of public car seat check points and fitting stations. The event will take place on National Car Seat Check Saturday at the Shelburne Police Department (5420 Shelburne Road). To make an appointment, call Lt. Fortin 802-316-0620 or Sid Bradley 802-734-0510.  
Saturday Sketching, 9:30-11:30 a.m., Saturday, Sept. 26 — Milton
Spend some time relaxing and sketching in the fresh air of Bombardier Park West with artist Annette Hansen this Saturday. Participation is $29 per person and registration is online. High quality materials will be provided in individual bags, to be returned to the instructor at the end of the session. Students can choose to work in pencil, ink, charcoal, or watercolor. Hansen suggests bringing water to drink and wearing comfortable clothes. 
A socially-distanced outdoor screening of Smokey and the Bandit (1977) will take place at the Mansfield Barn in Jericho. The movie will be projected onto a large, 20x40 foot movie screen against the barn and audio will be transmitted over FM radio. Tickets cost $25 per-car and should be purchased online in advance of the movie. If the movie is not sold out, tickets will be sold at the door via credit card only.
---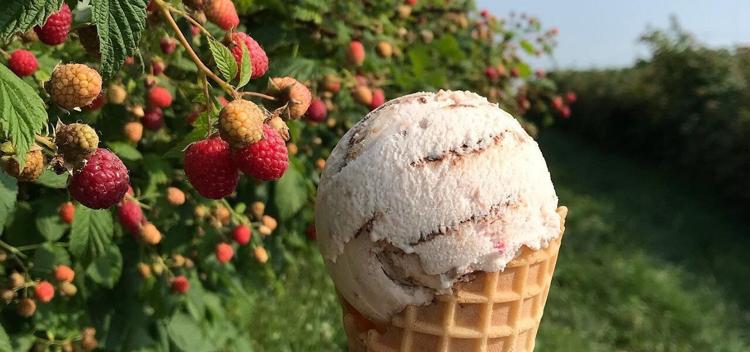 Staff Writer Bridget Higdon recommends spending an evening at Fisher Brothers Farm. In summer, the farm's red barn, tucked back off of Spear Street in Shelburne, is surrounded by fields of red wine grapes, blueberries, blackberries and aronia berry. While the fields are a little more bare right now, the early fall foliage frames the farm in a similarly picturesque way. 
Fisher Brothers Farm is best known for its ice cream company, Sisters of Anarchy, which serves scoops and pints out of a small trailer on the farm property. All of their flavors, like Purple Haze, Raspberry Beret and Beefy Blonde are made from the farm's summer bounty. My personal favorite is Bronx Cheer, a rich raspberry with dark chocolate that will transport you back to the height of summer.
Tonight, from 4-7 p.m. Woodbelly Pizza will have a food cart set up next to Sisters of Anarchy, so stop by the farm after work today for a full meal. Make yourself comfortable in one of their colorful Adirondack chairs, and enjoy the view! 
Last week, I suggested riding your bike along the Colchester Causeway to Allehholm Farm in South Hero. The week before, I recommended four ways to make use of your last summer tomatoes. 
Know of an event that should be highlighted or a place we should visit? Submit it to our calendar, or send us an email at news@essexreporter.com. We'd love to hear your suggestions.