ESSEX JUNCTION -- As positive cases of COVID-19 started ramping up in the United States, Vermont jumped into action to help prepare its health care network in the event that hospitals became overwhelmed with patients.
One of those actions was to establish a 400-bed facility not far from the UVM Medical Center (UVMMC) at Essex Junction's Champlain Valley Exposition.
Less than two months later, however, the Robert E. Miller Expo Centre is practically back to the way it was before.
The Vermont National Guard received orders April 1 to mobilize and get working on the site, and it was completed less than a week later. While the original intent was to care for non-COVID patients who suffered from "slips, trips, and falls" and help provide relief to UVMMC's capacity, the expo's first patient -- who arrived April 10 -- was a carrier of the coronavirus.
Over the following month, the surge site took in 20 patients according to the Guard. Seven of those were COVID-19 positive while the other 13 were there for other reasons. The most patients at any-one time was nine.
While Vermont started to see a drop in cases, it was realized that there would not be an immediate need for so many extra beds. Members of the Vermont Army and Air National Guard who were on site were relieved of their duties, and the alternate health facility (AHF) started to get torn down.
It was around May 15 that the North Expo section of the building began to have its 150 bed units meticulously taken apart, and that process was completed by May 19. Teardown of the South Expo's 200 units started a week later and was done on May 28.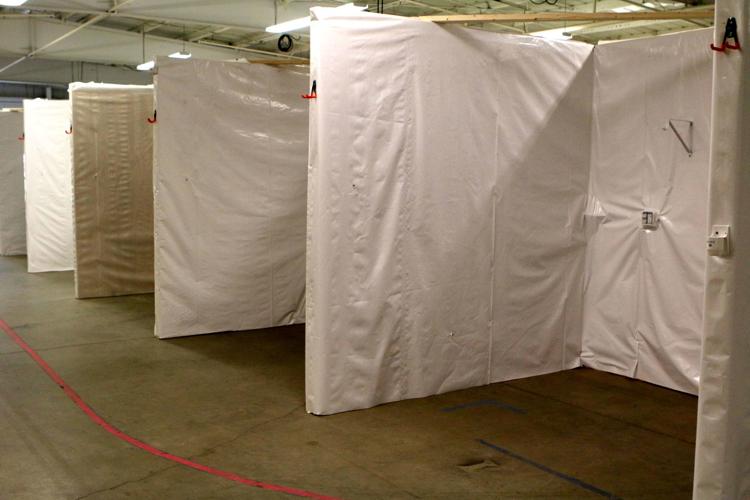 The additional 50 units that were created as isolation pods in the Blue Ribbon Pavilion still have their walls and lining, but the beds and other materials have been moved out. Those pods are being left up in case the state sees a spike in coronavirus cases and there's an urgent need to use the expo once again.
Lt. Col. Roger Zeigler, deputy commander in the Garrison Support Command of the Vermont Army National Guard, said that teardown was done so carefully that nearly 100 percent of the materials were salvaged and able to be reused -- some screws being the only things possibly wasted.
Hundreds of electrical boxes that had been handmade by members of the Guard back in April, thousands of pounds of lumber that had been brought in for the walls, and pipes that were assembled for plumbing were among the materials that were taken apart and transported to nearby Camp Johnson in Colchester. There, they were strategically packed into a warehouse to maximize its storage capability and allow for easy removal if needed for a rebuild. Zeigler said the warehouse will be dehumidified and sealed up to protect everything that's inside.
Zeigler said that the Guard generally does not use outside contractors for its facilities at Camp Johnson and instead has its members perform electrical and plumbing work, among others, when needed. However, the Guard will not be allowed to utilize the materials from the AHF as they currently belong to the State of Vermont. Zeigler said it will be up to the state as to what will happen to everything at some point down the road -- including being donated or thrown away.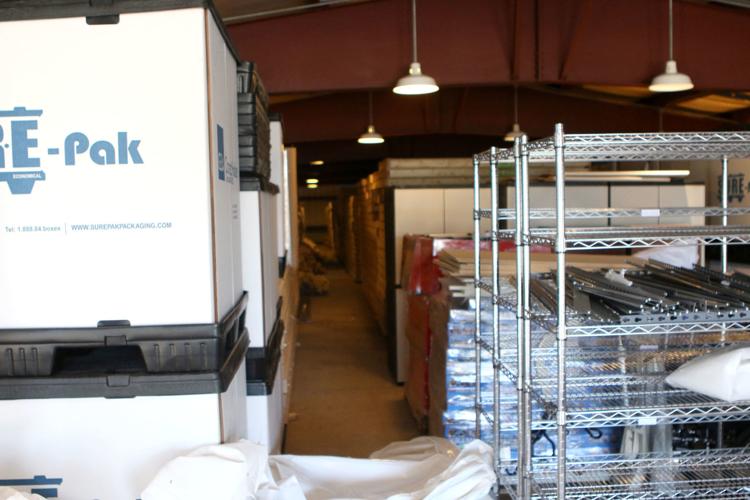 If Vermont is reimbursed for such materials by the Federal Emergency Management Agency, they will then all belong to the federal government.
Until then, the materials sit idly by just down the road from the expo center -- ready if needed. Zeigler noted that it will take the Guard longer than it did before to reset the facility as it lost a lot of personnel and the power that came with them. He said it would take about one and a half weeks to set up 100 beds.