ESSEX — The Emerald Ash Borer, an invasive beetle that wreaks havoc on ash trees, has been making its way around Vermont since its first sighting here in 2018. Towns across the state are wrestling with how to keep streets lined with trees while keeping costs down.
"It's a pretty invasive and troublesome pest in that it kills pretty much every ash tree it encounters and can really spread quickly," said Darren Schibler, town planner for the Town of Essex.
Essex Town's Conservation and Trail Committee, along with Schibler and others, are taking the next steps in their fight against this pest by inventorying all of the ash trees in the town and assessing their health.
Schibler says the inventory is a critical step in figuring out what the town will do moving forward to mitigate damage done by the beetles.
According to him there are three options to take with each ash tree: to replace it proactively before there are any signs of infestation, to replace it once it has been infested, or to treat it with the chemical emamectin benzoate. This treatment has to occur every two years for the remainder of the tree's life.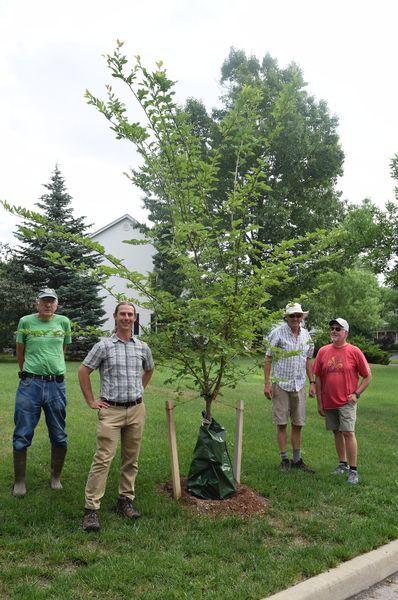 Schibler explained that one round of ash tree replacements was already completed under grant money provided by Vermont Urban and Community Forestry, a program funded primarily by the USDA Forest Service.
The town was able to use this grant money to also estimate costs for the replacement of trees and the treatment of trees. The total estimated cost of removing and replanting an ash comes out to $843.25 per tree. Ash tree treatment with emamectin benzoate comes out to $96-120 every two years.
Based on these numbers, Schibler estimates that it would take 10-12 years to break even when choosing treatment over replacement.
Alan Botula, chair of the Essex Town Conservation and Trail Committee, said in an email he would personally always like to save trees rather than to replace them.
"But I think we have to recognize that this would only make sense if we expect the tree to remain healthy and thrive. If that's not going to be the case regardless of treatment, then we would do what is best for the neighborhood and urban forest overall, which is to replace the tree," Botula said.
Botula says this is why the inventory is so important. It will allow them to see which trees have the combination of "good current health, site suitability, and favorable prospects for continuing to thrive independent of the ash borer problem."
Joanne Garton, technical assistance coordinator for Vermont Urban and Community Forestry, does a lot of work with towns across the state, helping them to prepare for the Emerald Ash Borer by inventorying trees, collecting data, and writing plans.
"I've heard it's just the most expensive tree pest issue we've ever had, because of how quickly ash trees die once they're infested, and because of how brittle and unsafe they become once they're infested," Garton said.
She added that another challenge is how common they are as street trees. When Dutch Elm disease wiped out most of the elms in the country, which were the most popular street trees at the time, Garton says everyone was planting green ash to replace them.
"They're pretty tolerant of salt, they look nice, they're hardy street trees. But not hardy enough to withstand Emerald Ash Borer," Garton said.
Schibler said the inventory will be completely volunteer based, and the town's goal is to finish by the end of the summer.
Because of a tree inventory that was completed in 2016, they know that there are about 200 ash trees in the town and where they are distributed, so he thinks the process will go smoothly and that they will divide the work by neighborhood.
"It's primarily going to be volunteers on the conservation trails committee, doing this by going out with either pad and paper or a smart device to update our inventory directly. And basically just add a whole bunch of data points for the health condition of the tree," Schibler said.
"Once we have that we'll bring all the data back, look at costs, and figure out how many we could reasonably save over the long term."
---
Luca Kolba is a student at the University of Vermont and a reporter for the Community News Service, a student-powered partnership with local newspapers.