Not all epic scenery comes with high elevation. Wheeler Mountain is one of those peaks that delivers a big payout for minimal effort. At 2,366 feet, it's not lofty, but when you step out onto the open ridge for the ascent to the summit, prepare to be amazed!
Better than I remembered: I've hiked this mountain in the past, but I didn't remember how beautiful the views were until Adam and I popped out onto the first set of rocky ledges. The Northeast Kingdom spread out before us, Wheeler Pond on the right and Mount Pisgah looming large on the left.
The last time we took this hike, Yadi (our Lab) was just a year old, and he disapproved of the ledges. Four years older and more courageous, he took them like a champ this time around.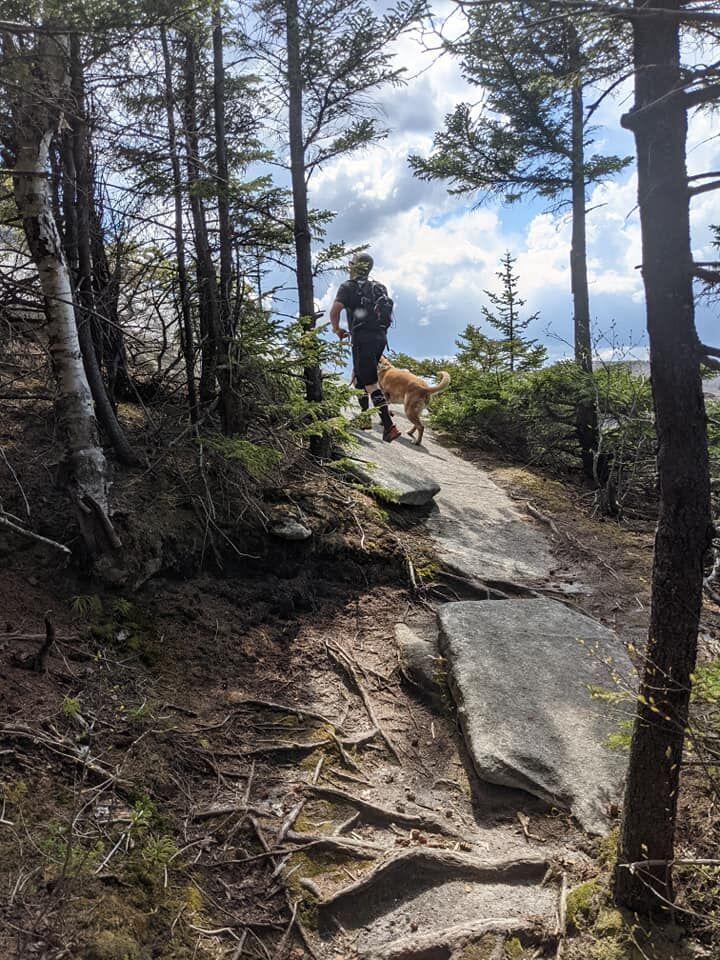 You go up, you go down, you go up again! After enjoying several ledgy lookouts, the trail dips back into the woods, descends into a col (a dip between higher spots), and makes the final ascent to Eagle Rock. From that wide, granite lookout, you see the surrounding forest, the cliffy face of Mount Pisgah, and a narrow strip of Lake Willoughby.
Don't be fooled by blue skies! On Sunday, the sky began clear and blue, but by the time we got to Eagle Rock, huge cumulus clouds had formed; we spent as much time staring at the sky as we did the landscape.
Towering white clouds billowed over the surrounding peaks, and we could see stray rain showers in the distance even though our peak was bathed in sunshine.
You can imagine our surprise when we heard a commanding BOOM of thunder from behind us! Sure enough, a large, dark cloud was sliding across the sky toward us.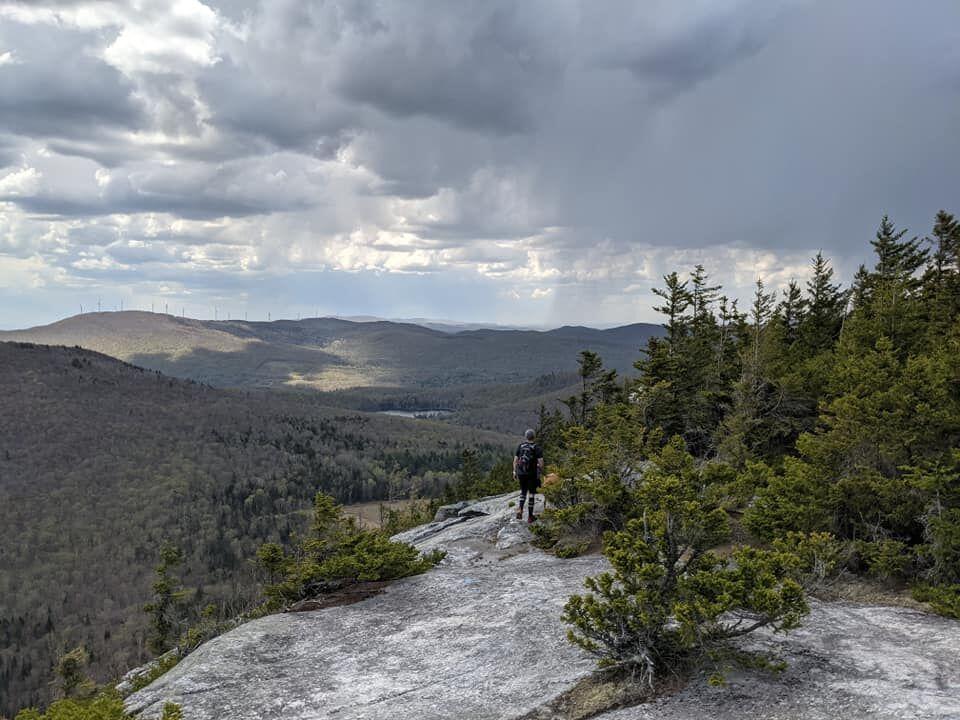 You should always expect the unexpected when you head out to explore. Even the most beautiful day can turn on a dime, and this day was no exception. We checked the radar (yes, there's service out there) and saw that it was going to pass by us to the west. That was a comfort to us, but I can assure you our dog Mia was not convinced.
Mia is terribly afraid of thunderstorms. She also doesn't forget about the danger once the storm passes; she has a memory like a steel trap, and she shivered and shook and panted like crazy the entire 2.5 miles back to the car.
Mia finds refuge! Her fears were validated when it started raining; she was very glad when we reached the car. She may not be able to read lightning safety instructions, but she knows a good place to hide when she finds one!
Thunder and rain didn't ruin the hike, though, and I'd highly recommend Wheeler Mountain for a sweet summer hike! It felt like summer on Sunday, and I even broke out my blue shoes for the outing! That's when you know it's getting warm!