SHOREHAM — Time spent drawing together during quarantine led to the creation of a new art installation for an Essex Junction mother and son.
On June 18, Susan and Kirk Teare will unveil "Find Your Own Space," a site-specific installation at the Lemon Fair Sculpture Park in East Shoreham. The public is invited to attend the opening night event beginning at 5 p.m. 
A self-guided outdoor museum, Lemon Fair features a mile-long, mowed path with over 50 sculptures from artists all over the U.S. and one from Argentina. Admission is free, but donations are suggested.
Vermont-based artist Susan Teare has lived and worked in Essex Junction for nearly 20 years. Her son Kirk graduated from Essex High School in 2017 and is now a senior at the University of Colorado-Boulder.
Their collaboration, "Find Your Own Space," is simultaneously an ode to their family home in Essex Junction and a space for visitors to reflect on the beauty and memories of their own house.
The idea for the installation first came to the artists in spring 2020, when Susan and her husband's three children returned home to ride out the early days of the pandemic.
"Last year, during quarantine, we were all living together," Susan said. "Kirk and I would sit together and draw the house. He is an exceptional artist, and he was teaching me how to draw things from his perspective."
An architectural photographer for 25 years, Susan is a lover of spaces, especially her family's Victorian house in the Village. Sitting in various rooms, Susan and Kirk would sketch its historic doorways, windows and walls.
"I contemplated the spaces and how the kids have grown up in the house and how they'll have memories of it and how we as a family flow through it," Susan said.
During quarantine, Kirk too began to discover a new reverence for his childhood home through drawing. 
"We always have all the windows and doors open in the summer," he said. "The breeze and the bugs and the leaves flow through the house. And there's a specific feeling and tone in each room."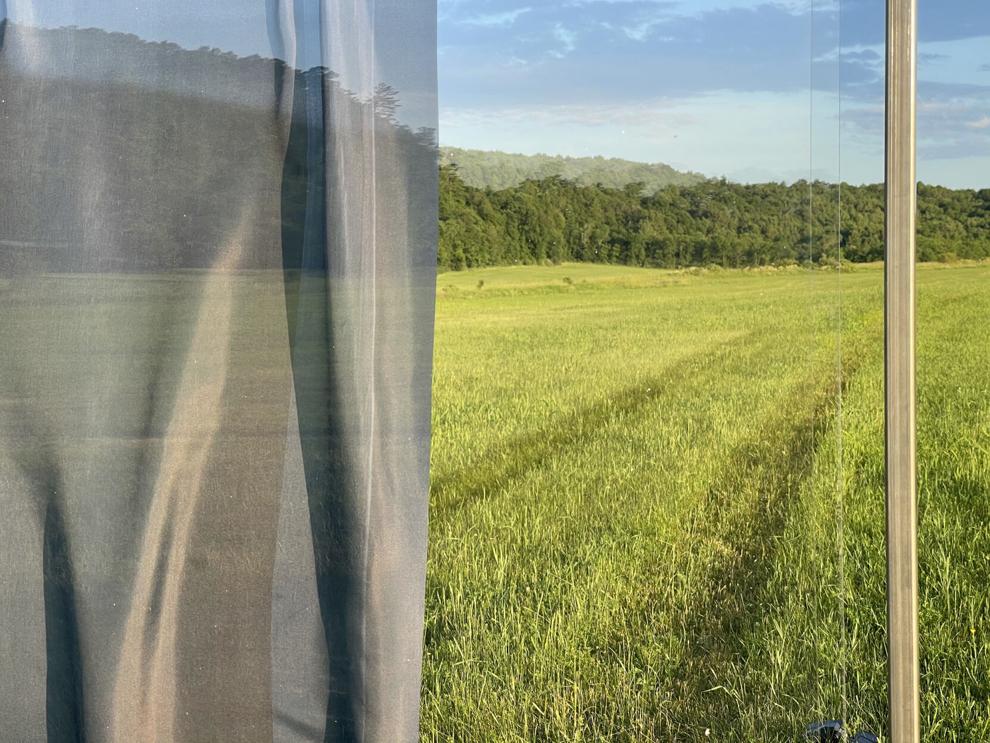 After weeks of drawing, Susan got the urge to begin work on another outdoor art installation. Her first, titled "Bivouac," was created in 2018 as part of her MFA from Maine Media College. 
Conceived as an effort to display Susan's photography outdoors, "Bivouac" was made primarily of mixed-media images printed on large silk panels. They hung on a friend's property in Essex for an entire year.
"Silk is very magical when it's out in the elements. Wind brings it to life," she said.
Once Kirk expressed interest in working with her on the new installation, industrial elements were added to reflect his studies in environmental design.
The result of their collaboration is the use of geometric, polycarbonate frames and billowing silk. Just enough details, like the same doorway measurements, colors and textures, will make visitors feel as if they are seeing both the Teares' Essex Junction home and their own in the park at Lemon Fair.
"We're almost taking the colors and the light and the flow of our house and bringing it out into the landscape," Susan said.
The installation will react to the elements — become soaked with rain, brightened by sunlight, moved by wind and cloaked in darkness, and Susan is excited about this. She is excited to see how the installation will change throughout the summer and the fall.
With Kirk's help, "Find Your Own Space" will utilize solar lights to light up at night. Motorists on the road nearby will be able to see it — lit up like a house — as they drive by in the dark.
In August 2020, Kirk went back to UC Boulder to complete his junior year. While he was away, he kept in touch virtually with his mom about the project.
"It was tricky, not being together, for sure," he said. "But we had a good amount of FaceTimes and text messages to make sure I got things done on time. She [Susan] was always pretty persistent with keeping me on track."
Kirk returned to Vermont a few weeks ago, and has since been working fervently with Susan to install the project at Lemon Fair. They've had help from Susan's husband and Kirk's dad, and from George Zavis, a friend and landscape architect
"It's been really rewarding to work on this with my mom," Kirk said. "I'm just so excited to see what other people think about it and how they feel in the space."
"Find You Own Space" will be on display beginning June 18 at 5 p.m. until early November.