ESSEX – For the first time in over a decade, the Hornet boys varsity soccer team clinched the Division 1 state championship.
The Nov. 6 victory against South Burlington capped off an undefeated season and was especially poignant for head coach Jake Orr, an Essex High School alum.
"I was on the varsity team, not an incredibly talented player or anything, but soccer was something I always loved to do," he told the Reporter. "We had a couple of close runs at the championship while I was on the team, so it was cool to finally win one."
This season was Orr's seventh as the boys varsity coach, and the first time he was named All-State Coach of the Year. Orr was especially impressed this fall with the team's seniors, who supported one another and led with integrity.
Here's what else he had to say about the big win.
Q:  What was that moment like immediately after the game? How did you feel?
A:  It was a really awesome feeling. We had a team with a large group of seniors; there were 14 of them in total. That was the last game they were going to play together, and I saw them as a group work really hard during the four years of their high school experience.
I was mostly just really happy for that group of kids I think at the end. It was such a positive and a well-deserved state championship for our team.
Q:  What will you miss about that group of seniors? What did they bring to the team?
A:  I think more so than any group I've coached in recent memory, this group really seemed to enjoy playing with each other and have fun with it. They were selfless and rooted in love for each other. They cared about the team's success over individual success.
I think that was a big reason why we had such a good season — how close those guys are and the friendships they had. A lot of them have been playing together for many, many years.
I think, you know, when we've gotten into tough situations like being down one-nothing during the championship game, they just kind of knew they could rely on each other, and they would work together to find a way to be successful.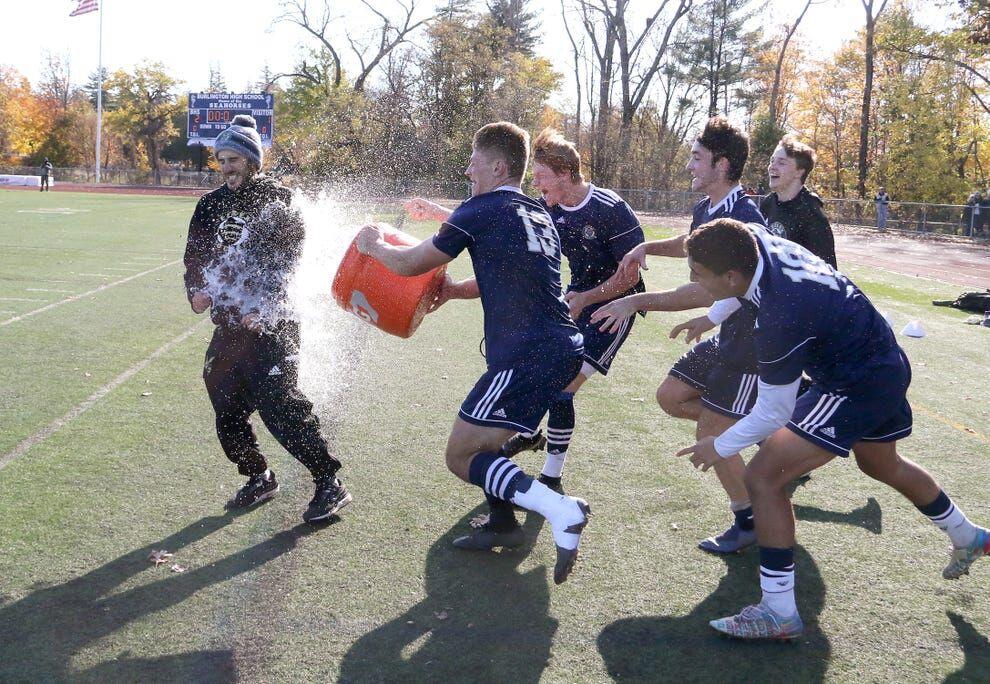 Q:  When you were down that goal during the championship, what did you say to motivate the team?
A:  I think one of the challenging things about being a soccer coach is sometimes there's not a lot you can do given that you can't call timeout or you're not going to pull all 11 players off the field at once.
Our team, being pretty mature and experienced, was able to do a little huddle on the field after we got scored on and encourage each other to forget about it and go out and tie this thing up.
We were only trailing in three of our games this year, and all three times Joshua Allaire, one of the seniors on our team, was the one that scored the goal to tie up the game. He was kind of Mr. Clutch for us and we were in a tough spot.
Q:  Looking back, what do you think were some of the team's keys to success this season?
A:  Our team had a lot of depth this year. We had so many good players that we were able to just have guys go in and play short spurts where they could play really hard, knowing they were only going to be out there for 10 minutes. We were then able to sub in another talented player who was fresh and had a lot of energy and was ready to go.
Our team wasn't carried by a star player or a small group. It was really like 20 guys all working together, all contributing in different ways. And there were games in the season where we have, you know, different guys step up in many different places.
Q:  What does it mean to you to be named Coach of the Year?
A:  It's a cool honor. Our team had a great season, and a lot of times the coach's stuff comes along with that. The varsity team has certainly come a long way. Many other people put in a lot of work, time commitment, dedication, to be able to win state championships.
To experience that with my players was the best thing that I could ask for, and then winning coach of the year is kind of like a little cherry on top to a fun year.