PLYMOUTH, N.H. — Jacob Rigoli of Essex was selected as the Paul E. Arold Male Athlete of the Year at Plymouth State University after establishing himself as one of the best weight throwers in all of NCAA Division III.
After not competing for 18 months, Rigoli, a senior, earned All-America honors when he finished third in the weight throw at the NCAA Division III Indoor Track & Field Championships with a school-record toss of 19.28 meters, becoming the first All-American thrower in school history.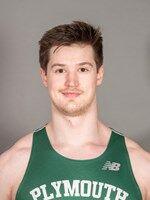 Rigoli earned U.S. Track & Field and Cross Country Coaches Association All-East Region honors in the weight throw and USTFCCCA All-New England in the hammer throw and discus throw.
The Little East Conference (LEC) champion in both weight throw and hammer throw and DIII New England champion in the weight throw, Rigoli set and reset school records in the weight throw, hammer throw and discus throw multiple times throughout the year.
Head track and field coach John Ostler said Rigoli set and reset the school record nearly every meet over the course of the season.
"And he amassed six victories, including LEC and New England Championships, in the weight throw," Ostler said. "His crowning achievement came in March when he finished third in the nation. His best throw of 19.28 meters earned him All-American status and led the competition for the entire preliminaries and one round of the finals. He's a tireless worker in the weight room and a student of the sport."