ESSEX JUNCTION -- In the early hours of Nov. 14, a carport in the Village of Essex Junction became engulfed in flames during an incident that public safety officials are deeming suspicious.
According to Lieutenant Dan Macaig of the Essex Junction Fire Department (EJFD), the only known injuries were minor first- and second-degree burns sustained by four firefighters who were treated on site by medical personnel. The 130-foot wooden structure and 24 vehicles are said to have been severely impacted by the fire, as well as a nearby condominium and EJFD's Engine 5 which suffered mild damage from the immense heat.
EJFD was dispatched just before 4 a.m. Saturday morning, along with the Essex Fire Department (EFD) and the Essex Police Department (EPD), for reports of a vehicle fire at 7 Densmore Drive. Upon arrival, EPD observed and reported that the fire was spreading to additional vehicles and the carport structure.
Engine 5 was on scene approximately five minutes after receiving the call and began attacking the blaze. Crews would work on putting out the fire for more than two hours before it was declared extinguished.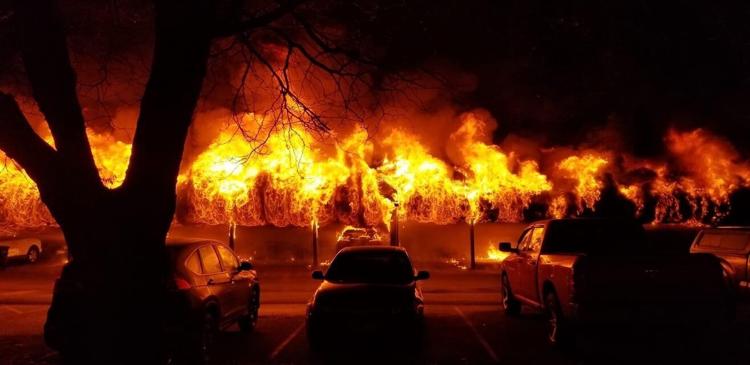 EPD says several of the vehicles were completely destroyed and the nearby condo sustained heat damage and broken windows. Essex Police is considering the incident suspicious, and an investigation is ongoing. EPD detectives are being assisted by the Vermont State Police Fire Investigation team and the Vermont Division of Fire Safety.
Essex Police says there were also several reports of thefts from vehicles during the night in the same vicinity, as well as in other areas of the village; investigators are still determining if the thefts are related to the fire.
The Densmore Drive fire comes one week after EJFD and EFD fought a fire inside the parking garage at 4 Pearl Street which involved tires and debris behind a vehicle. There has been no word as to whether the two incidents are being considered connected.
Anyone with information related to the Nov. 14 incident is asked to contact the Essex Police Department and Detective Nick Van Winkle at (802) 878-8331.