The accolades keep rolling in for former Hornet and Norwich University (NU) graduate student Kevin Svarczkopf, of Essex Junction.
Just weeks after being named NU's 2020 Male Scholar-athlete of the Year, the third-year outside linebacker has been chosen for Vermont's Chapter of the National Football Foundation Collegiate Scholar-athlete Hall of Fame as announced on Tuesday.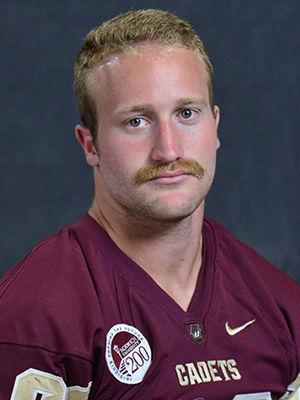 "Kevin is a fierce competitor," said Norwich head coach Mark Murnyack. "His preparation was second to none. He worked hard in the weight room, he worked hard in the film room and he worked hard in the classroom. He battled back from injuries which showed his toughness. He set the example. We are going to miss Kevin. I have no doubt he will be successful whichever path he chooses."
According to his NU bio page, Svarczkopf, working on getting his master's in architecture, aspires to be a licensed architect in New England.
In addition to picking up Norwich's top academic honor this spring, he has also worked his way to three-straight New England Women's and Men's Athletic Conference All-Academic teams dating back to the 2017 fall semester.
While dealing with injuries throughout his collegiate career, Svarczkopf was still able to get on the field for 22 games--amassing 88 total tackles and 4.5 sacks.
Essex High School senior Cory Giannelli was also listed as one of the 24 2019 Vermont High School Scholar Athlete Inductees finalists--that honor recognizing outstanding football ability and performance, outstanding academic achievement, and outstanding school leadership and example. Only six players were selected from that pool.
The National Football Foundation and College Hall of Fame was founded in 1947 as a non-profit educational organization to run programs designed to use the power of amateur football in developing scholarship, citizenship, and athletic achievement in young people.