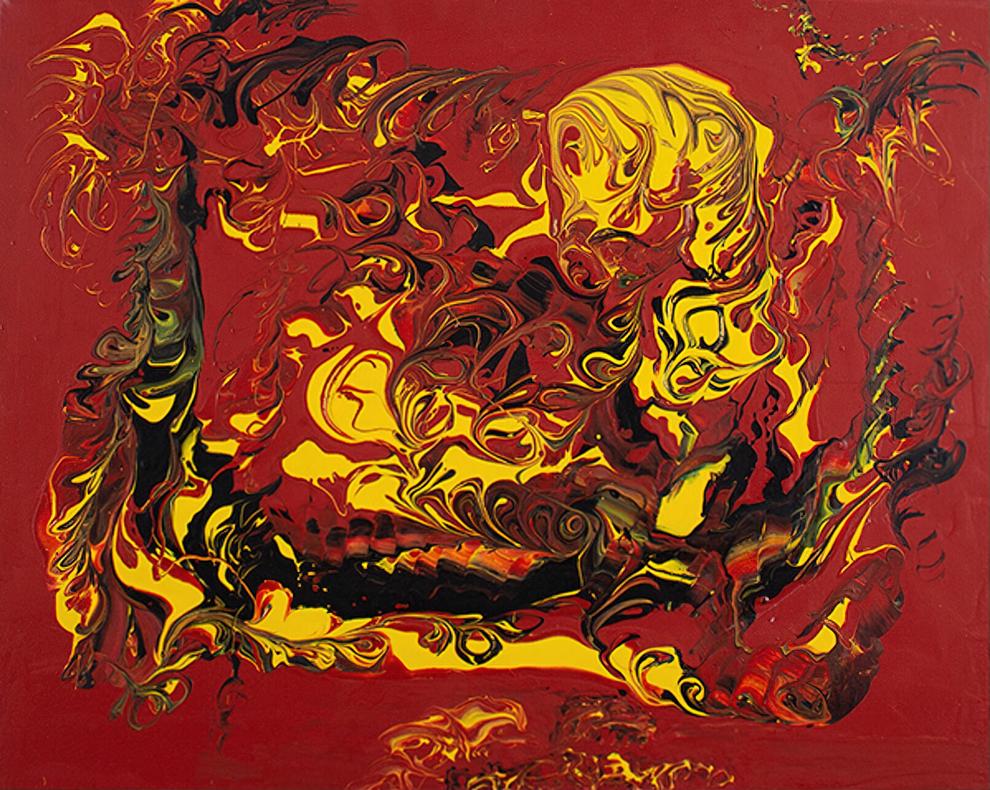 SOUTH BURLINGTON -- The South Burlington Public Art Gallery is featuring an exhibition of 40 paintings by Charlotte artist Marvin Fishman. Curated by Jessica Manley, the solo show represents a broad retrospective of his main series of two-dimensional work from the last several decades.
The Gallery, located at 180 Market Street, is free and available to the public whenever the Public Library, City Hall, or Senior Center are open: 8 a.m.–7 p.m. Monday–Thursday; 8a.m.–5 p.m. Friday; and , 9 a.m.–3 p.m Saturday.
The exhibition will run through March 14, 2023; the public is invited to an opening reception from 5:30–7 p.m. on Thursday, January 26. 
Marvin Fishman was born in New York City. He graduated from Brooklyn College and attended the Law School and Graduate School at the University of Chicago. He initially worked as a journalist in Chicago and as a freelance writer in Mexico.
Back in New York, Fishman and his friends established The Third World Film Group, and later, he and a partner opened their own studio, M2. Fishman became a founding member of Newsreel, a political activist filmmaking group.
After moving to Vermont in the 1970s, Fishman headed UVM's media facilities and returned to independent media work and journalism, among other endeavors. Desiring more physical contact with materials in his creative pursuits, he turned away from film to the more "primitive" and equipment-free medium of painting.
Now in his eighties, Fishman has enjoyed working in his Charlotte studio for the last several decades. His work spans a multitude of genres primarily rendered in acrylic paints and on a variety of media, such as canvas, wood, stones, and even dead tree roots. He often works in the wet-on-wet method (alla prima), pouring paint into other wet layers then manipulating it to shape and blend the colors.
"I am a promiscuous art appreciator," Fishman says. "Figurative, abstract, cubist, impressionist, minimalist, surrealist, expressionist, naive, primitive, mixed media, portraiture, landscape, outsider—whichever, doesn't matter. I can love some of all. At its most basic, a piece of art has to awaken in me an emotional response and arouse my curiosity. The art does not have to be 'beautiful.' It does not have to be harmonious, but it does have to have impact, evoke emotionality, and impel me to dig deeper into the work.
"My subjects are imaginary—imaginary faces, landscapes, and abstracts. Degas said, 'Art is not what you see but what you make others see.' Often enough, the viewer sees figurative [or representational] images in my abstractions where no such images were purposely made. In most of my work, my concerns are density, texture, contrast, movement, design, and balance (or the purposeful absence of). "I hope that my works encourage the viewer to study them in their whole and in their detail, and not merely to observe casually; to focus down from the whole to see the intricacies, the patterns, and the fine detail. As such, my aim is to give viewers free rein to use their imagination."
For more information, please contact gallery@southburlingtonvt.gov.