Time spent growing up in Essex helped shape the way one artist, currently living in New York, views the world. That view has helped her become featured in one of the Big Apple's premier museums.
Chosen through a crowdsourcing process that received tens of thousands of submissions, Teressa Valla had one of her photographs selected by a jury of a dozen people to be on display at the Museum of the City of New York's exhibition that looks back on New York during the beginning of the pandemic.
Valla's picture was one of just four picked to be in the "Getting Around" theme of New York Responds: The First Six Months – an exhibition that presents objects, photographs, videos, and other artworks that document and interpret the COVID-19 pandemic, the racial justice uprisings, and the responses of New Yorkers as they fought to cope, survive, and forge a better future.
Not only that, but her image, titled "Absolutely Essential Eyes," was one of just a few chosen to don a promotional banner hanging outside the museum.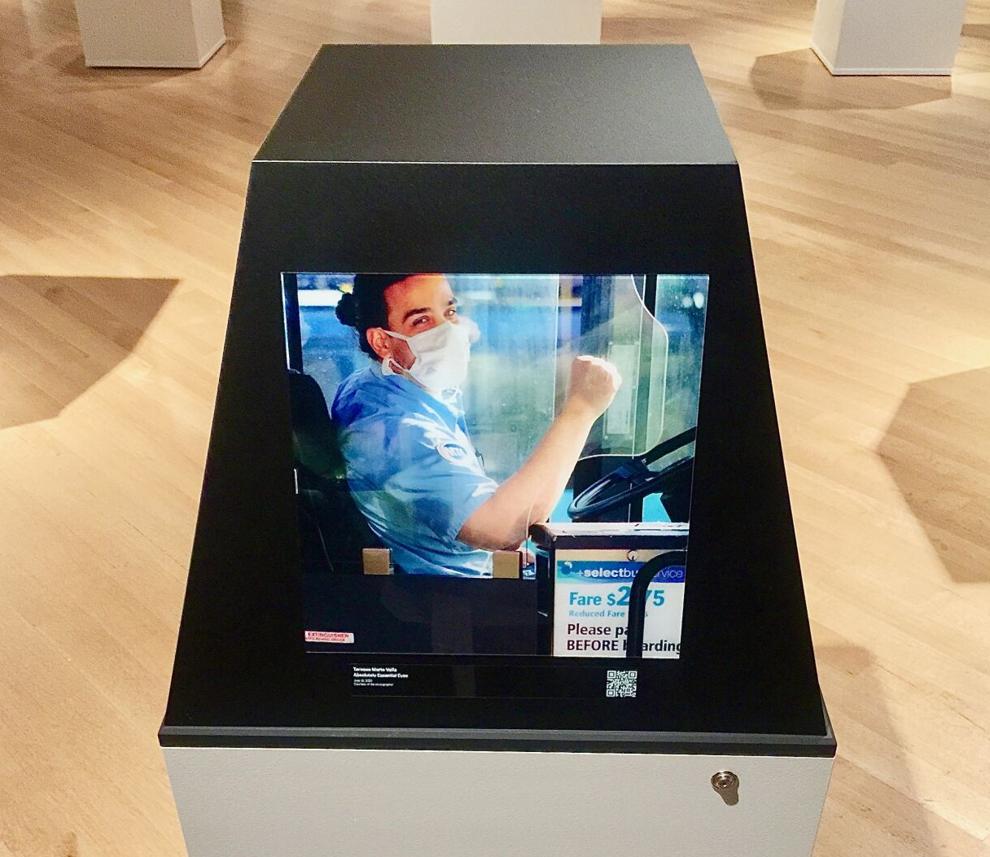 "I'm honored and grateful to be included in this historic collection," said Valla. "I jumped out of my seat when I saw the email because of the unexpected opportunity to participate."
On display through May 9, "Absolutely Essential Eyes" captured a Metropolitan Transportation Authority (MTA) bus driver looking backwards with a fist in the air – his raised eyebrows alluding to a big smile being hidden by his mask. The photo and the three others in the "Getting Around" theme of the exhibit remember how New Yorkers got around safely during the lockdown last summer.
Valla described the setting for the picture, saying she had barely left her home between March and June of 2020 – getting food delivered to help remain inside.
"There were literally sirens for months outside my apartment. It was just terrifying," said Valla.
But then one day, she decided to head out towards the 79th Street Boat Basin Marina near the Hudson River where it was likely there wouldn't be anyone around. While walking past an MTA bus on her way, something caught her ear before something else caught her eye.
"There were two men talking, and they were laughing. I said, oh people are laughing; how unusual," Valla recounted with a chuckle. "So I'm literally walking by them, and I stepped back and I asked them if I could take their photographs. It was that human quality that I just wanted to hold onto. 'Can I have a minute of your laughter?'"
Valla would submit the photo for the museum exhibition's consideration a few months later and then found out in late October that it was chosen to be showcased both inside the gallery and online.
More recently, Valla has been communicating with the MTA in an attempt to get in contact with the subject of her photo – wanting to make sure the bus driver has seen it and to let him know it's on display at the museum.
"I really want this person to be honored," she said. "It's really about honoring other people – honoring the essential workers who have been so critical. He's doing the right thing: wearing the mask, being concerned about other people. These are the human qualities that I wanted to reflect in this photograph, and it just summed it up so succinctly."
Essex's impact on the artist
Valla contributes how she lives daily life and how she sees the world around her – helping frame her artwork – to her time spent growing up in Essex.
She moved to Vermont from Massachusetts when she was 10 years old and went through the Essex school system before studying liberal arts, with a focus on anthropology of textiles, at the University of Vermont. She remembers a pine tree by her Forest Road home that she claimed as her own – sitting among the needles to think and reflect. Valla now imbeds pine needles into her paintings.
"The years in Essex were so significant because it really helped shape my foundation in the appreciation of the human attitude in Vermont," said Valla. "It was an outward care for people. And then, as an artist, there's an inner reflection – an inward process. It's so fundamental for the process of creativity for me to be outward and inward simultaneously – reflecting on life and then creating from that into a personal vision."
Valla says she brought those values with her when she moved to New York which were influential in getting her involved with many community programs in the city.
It was also in Vermont that Valla developed an appreciation for the colors and elements nature provides. She now uses that appreciation in her artwork.
"I still marvel today to when the ice shimmers on rocks on the side of the highway," she said. "When I was young, I just thought that was so gorgeous; the ice is twinkling. And so I use these qualities in my painting. I sought out ways to create that visual effect through paint, and that has become part of my signature. I'm interested in: How does color reflect light? And some of those early questions came to me when I was looking at the landscape in Vermont."