WASHINGTON, D.C. -- It was a matter of hours before mitten mania took social media by storm after a photo of Sen. Bernie Sanders, casually sitting during Wednesday's inauguration of President Joe Biden and Vice President Kamala Harris, was widely shared.
In the picture, Sanders is seen with his right leg draped over his left and his arms crossed over his lap. But it's not his disposable mask, Burton jacket or Uniqlo pants that have garnered so much attention. It's the mittens he's wearing.
Where were those mittens made? Right in Essex Junction.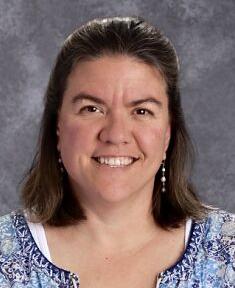 Making the mittens was village resident Jen Ellis, a second-grade teacher at Westford School who's spent some time of her own in Montpelier as she began her elementary education career by teaching first grade at Union Elementary School.
Ellis started hand crafting the items from upcycled wool clothing, selling them at fairs as a side business before the pandemic and giving them away as gifts. Sanders' pair was made from a recycled sweater and lined with fleece made from recycled plastic. It's said the pair made its way into and eventually onto Sanders' hands two years ago when Ellis gifted them to the Senator through the owner of her daughter's daycare -- Sanders' daughter-in-law.
*fashion commentary voice* "The mittens are made in Essex Junction VT by a teacher and repurposed from sweaters"

— Bridget Read (@bridgetgillard) January 20, 2021
The internet first became aware that the mittens had originated from Essex Junction at 10:31 a.m. Wednesday morning when Bridget Read, a writer for the Cut, posted on Twitter -- without a photo -- that they were made in the village "by a teacher and repurposed from sweaters." As of this story's publishing, the post had just 13 re-tweets and 83 likes.
Shortly after, however, another tweet hit the web that included a photo of Sanders standing on Capitol Hill -- donning the mittens -- and a mention of both Essex Junction and Ellis by name. The post by BuzzFeed's Ruby Cramer received over 83 thousand retweets and 427 thousand likes.
Bernie's mittens are made by Jen Ellis, a teacher from Essex Junction, Vt. She gave them to him 2+ years ago and was surprised when he began wearing them on the campaign trail. They are made from repurposed wool sweaters and lined with fleece made from recycled plastic bottles. pic.twitter.com/ErLr29lY2t

— Ruby Cramer (@rubycramer) January 20, 2021
A little later, a picture of Sanders relaxing in his mittens and folding chair was taken by a correspondent with news agency AFP, and the meme brigade took it from there.
People with even the slightest amount of digital photo editing skills started cutting out the image of Sanders and pasting it into pictures of famous shows and movies...
historic events...
and college campuses -- including Ellis' alma mater, the University of Vermont.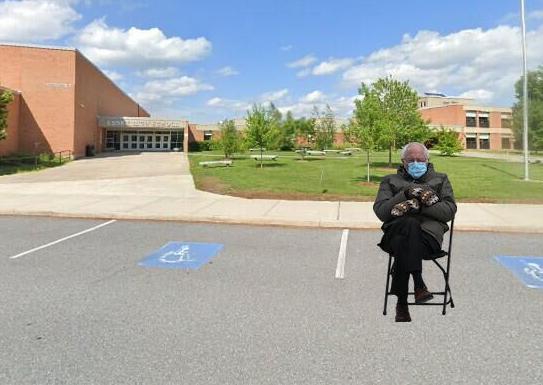 By nighttime, New York University graduate student Nick Sawhney had created a website on which visitors can type in any address and have the image of Sanders appear on the Google Street View of that location. Within an hour, Sawhney was scrambling to keep the site from crashing as it was receiving an influx of traffic. It grew to have 22-32 requests per second Wednesday night before spiking to see about 70 requests per second by Thursday afternoon, according to WIRED.
The mittens will even be featured on a National Bobblehead Hall of Fame and Museum product.
As for Ellis, she did not return a request for comment to the Reporter by the time this story published, possibly because she has "been inundated with requests last night and today," according to the Essex Westford School District. She has conducted a number of interviews both locally and nationally, including one for NPR.