An Essex High grad known as "Coach Sonic" to his students, competed recently in his second season of American Ninja Warrior.
Amir Malik, a 21-year-old from Essex Junction, appeared in Episode 3 of the hit television show's Season 13. The episode was filmed in Tacoma, Wa. and aired June 21 on NBC.
Malik passed the qualifying round and will next appear in the semifinals, filmed in Los Angeles, on Aug. 9.
Malik got his start on ANW in 2020, in the midst of the pandemic. After submitting an audition video, he was selected to join other competitors in St. Louis, Mo for Season 12. As a rookie, or first-timer on the show, he made it all the way to the finals, finishing in the top eight.
Season 13 of the obstacle course competition show features more than 400 competitors and, for the first time in ANW history, the age limit to compete was lowered to 15 years-old.
Malik said he went into his second season feeling confident, knowing he'd performed well in the past and trained well between seasons.
"People talk about a sophomore slump — usually you do good the first season and then during your sophomore year you flunk out, you disappoint," he said. "I wanted to make sure people knew that [my success] wasn't a fluke."
At age 14, Malik had a surgery to remedy his Wolff-Parkinson-White syndrome — an anomaly that causes a rapid heartbeat. After the surgery, and the all-clear to resume athletic activity, he found his passion at the Vermont Ninja Warrior Training Center at Regal Gymnastics Academy in Essex.
He now coaches and teaches the next generation of ninja warriors, and took a break from coaching a summer camp last week to talk with the Reporter about his television experience. 
(Season 13 has already finished filming, but Malik couldn't share his results. Find out how he did on Aug. 9, after the Olympics, on NBC). 
Q: How did you get from Season 12 to 13? Were you asked back to compete?
A: You always have to send in a submission video. Even the people who have been doing it for all the seasons. They want to see different stuff and different stories.
I did very well last year, so it wasn't a shock that I got picked. But you always have to put in the work, so I made the video, and last year my story was more based on having heart surgery and all that. This year was more about me fostering dogs.
Q: What were the differences between this year and last? 
A: There are more than 400 competitors this season which is way more than last year. The cities are different too. We competed inside and outside.
The biggest difference was having teens compete with us. That's where the sport is going. People of a younger age have more drive. They don't really have to worry about too much in their life, so they just like to have fun and do Ninja. The teens were definitely a huge shock this season, and I mean, they did awesome.
It was kind of like me last season as a rookie — just going out there, having fun and killing it. They're doing the exact same thing.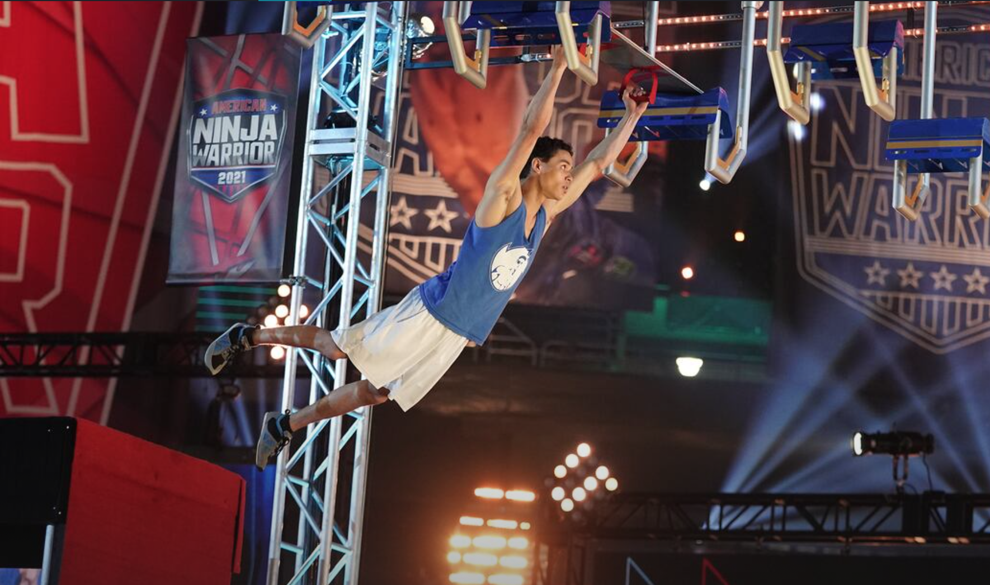 Q: Where does your nickname, "Sonic" come from?
A: It started probably when I first began training at Regal. There's this older guy who still trains with me, and every time that I would do the warped wall, I'd kind of be in this hunched over position, and then I would do this little jump up and then move my feet really really quickly.
A lot of people when they do warped walls, they kind of plan out their steps, they'll do three or four. I would just take as many steps as I needed to get up the wall. And he was just like, "You look like Sonic." It's kind of just stuck ever since. I can't complain.
Q: You have a website where you sell apparel with your Sonic logo. What's it like seeing people wearing your t-shirts in support of you?
A: It's awesome having that. I just love it that they can, you know, support me and show that they love what I do.
I definitely have a big support group, obviously at the gym, from my own students to the preschool division. All the kids love me and shout, "Coach Sonic!"
They all wear their little shirts and are excited when they get to see me. It's just great to have that support throughout the community.
Q: In the little time you had between this season and last, did you train or prepare differently knowing what it would be like?
A: People talk about a sophomore slump — usually you do good the first season and then during your sophomore year you flunk out, you disappoint. I wanted to make sure people knew that it wasn't a fluke, that it wasn't like "oh, there weren't a lot of good competitors last year. That's why he did so well."
For this season, I kind of started to plan and regiment my training. I got out of my comfort zone by going out on runs and doing cardio workouts. I worked on leg strength because I fell on the spider trap last year which was awful. I wanted my revenge on that.
Q: Obviously you are playing to win, but was there any camaraderie between you and the other competitors?
A: For the most part, it was the same people obviously from last season. Obviously some bigger and new ninjas too.
It's always just a fun community to be around. Everyone's very supportive. Obviously it's a competitive thing, and you want to do better than others, but you know we're all here for everyone and having a good time.
Q: How are you spending your summer? 
A:I'm at working right now, coaching Ninja Warrior summer camp, which is over at Regal Gymnastics in Essex Junction. I also coach classes for kids, age seven and up, and adults as well.
This is kind of like my rest point, my reset. I don't have to worry about training and can just get back into the sport, remember why I love it. I can have fun with it and not worry about the pressure so much.
When it comes time, I'll make another submission video and hopefully get picked for Season 14.