In 2019, two women stepped up to lead Voices for Inclusion in Essex and Westford (VIEW), a community group focused on organizing educational events.
Now, two years later, Karen Dolan and Erin Maguire are hoping to reenergize the group post-COVID and move VIEW to non-profit status, so it can sustain itself into the future.
"Our goal is that we'll be able to get grants to run activities and also to provide resources to the community," Maguire said.
Not only did these two women step up to lead VIEW, but each is independently and professionally engrossed in equity and inclusion work — Dolan at the Essex Community Justice Center and Maquire as the director of equity and inclusion at Essex Westford School District.
"We both have this really expansive body of work, and we bring expertise from those spaces as volunteers in this community effort," Maguire said.
VIEW meets monthly, and is hosting its next event on Aug. 18. The group will discuss "Caste" by Isabel Wikerson. Phoenix Books has copies that are available for loan to the community.
Here's what Dolan and Maguire had to say about VIEW's current membership, community role and future goals.
Q: In the last year or so several other equity and inclusion groups sprang up in Essex, like the Committee on Equity for Essex and Essex Resists. How is VIEW different from those groups?
Dolan: There are these different groups with different agendas right now which I think is important.
VIEW was created with a community approach, but also with a mission of being proactive. In the past year and a half since VIEW was established, some of these other groups have popped up, and they are reactionary to things that are happening in our community.
There's kind of this nexus that's being created of folks who are activated and want to engage and advocate on issues, And then VIEW is trying to be at the bottom, building that foundation and continuing to raise community engagement around issues of belonging and inclusion. 
Q: How has that mission of education unfolded in the last six months or so? You've got this book discussion coming up in a few weeks. What else is in the works?
Dolan: Our biggest focus recently has been, what does our group look like as we transition out of COVID? We were starting to ramp when COVID hit. We were able to do one socially-distant event in Maple Street Park, but we're excited to host in-person gatherings again.
Our other focus is sustainability. Erin and I, we're coordinating it, but what if we're not always here? It's a group of volunteers, so how do we make this sustainable?
We've been looking into moving VIEW to nonprofit status, 501 C-3, and so there's been a lot of paperwork to do recently. We're so close to it, we've secured funding, but we're waiting for the IRS to put the stamp of approval on it.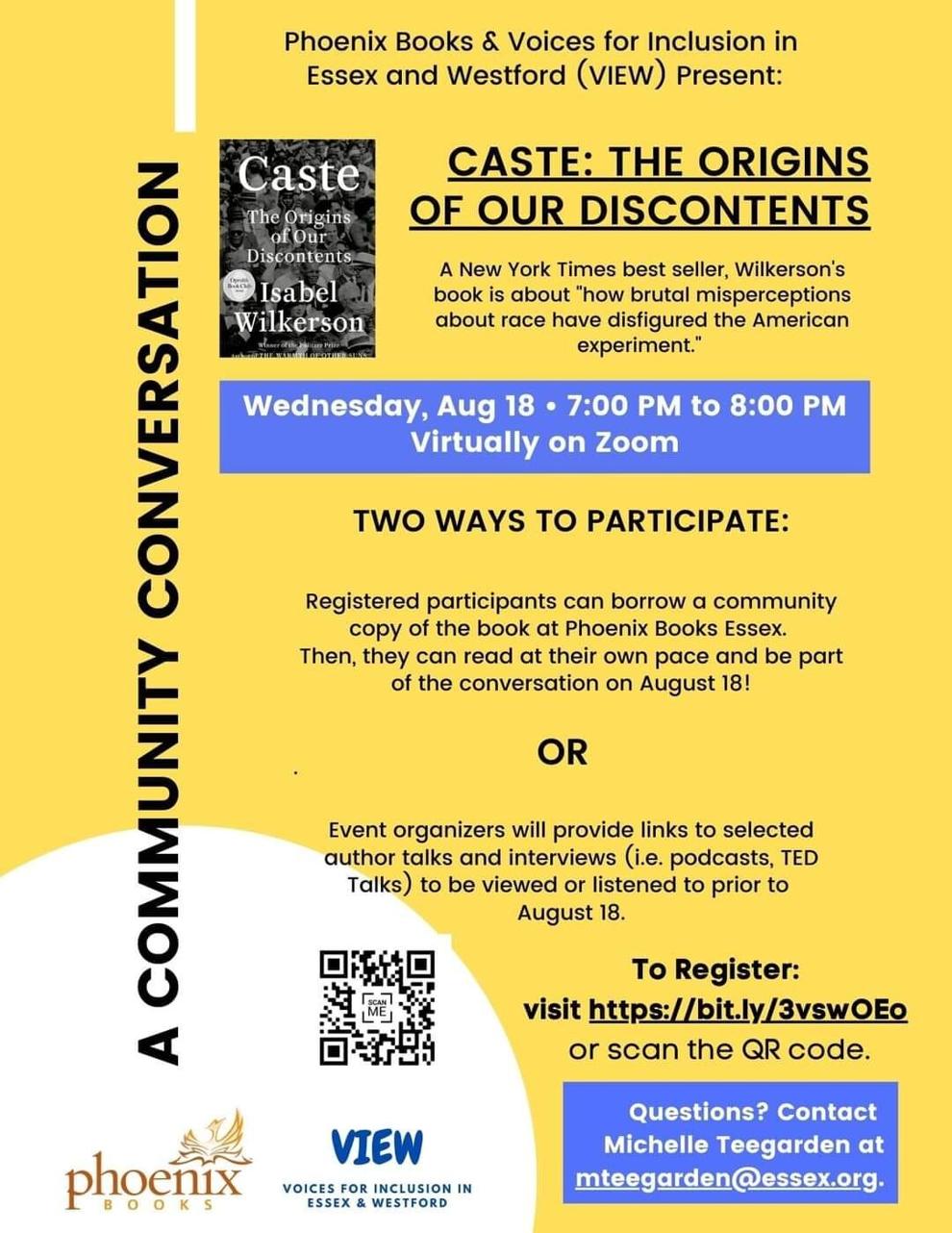 Maguire: Non-profit status will allow us to apply for grant funding.
We're in the process of developing another speaker series. We're hopeful to be able to do that later this summer or in the early fall. We're thinking about different topics: racial justice as a critical centerpiece, but also looking at disability and inclusion and rights of people with disabilities.
We've talked about looking at ethnic and cultural diversity and issues of immigration, and really some increased focus on community members that don't necessarily always get the focus.
These kinds of events are not free you know, and we want to value people. We can't say, "Hey, who wants to come and do this for free?" That's not really respectful or appropriate especially if people are sharing their stories.
Right now we're relying heavily on our volunteerism to make it go, and 501 c-3 status and potential grant money will give us the ability to turn around some high quality events.
Q: How many volunteers attend meetings regularly?
Maguire: About 10 to 15, and we have a mailing list of about 50 people who have been interested in at some point, and then we have the Facebook group.
It's mostly adults, but there are a few high school students as well. We certainly have some racial and ethnic and cultural diversity within the larger group, and gender diversity as well.
Q: VIEW sounds similar in some ways to groups that have cropped up in other area towns, like the Milton Inclusion and Diversity Initiative. Do you look to other groups for inspiration or would you go to them for collaborations?
Dolan: One in particular that I reached out to was Richmond Racial Equity, which is specific to racial justice.
I think that's one of the other things that maybe is a little different for us in VIEW is that racial justice is definitely a key component of suppressing racism, but we are about, all those -isms.
Certain organizations focus on race or LGBTQI or class or disabilities, and we're trying to say, "Hey, we want to raise education and awareness around all of these issues."
Maguire: Yes, I agree, but we definitely use a race-first lens.
Q: If after reading this, community members are interested in joining a meeting, how do they do that?
Maguire: We always hold an orientation for a new member who is interested.
Dolan: An orientation gives an understanding of what we're all about.
I would like to encourage folks who want to be involved to like the VIEW Facebook page. During this interim phase, where we don't have the nonprofit entity, Erin and I are the point of contact.