With the start of academic instruction on the horizon, the Essex Westford School District (EWSD) has been busy getting supplies needed to help provide safety for students, faculty, staff, and administrators.
Among those plans was the acquisition of more than 22,000 pieces of personal protective equipment (PPE) for both individuals and infrastructure. 8,500 of those were facial coverings for students with another 400 being transparent SafeNClear communicator masks that will be used by special educators, ELL instructors, and other select staff members.
The district's plan is to distribute two reusable cloth masks to each student. An Aug. 25 update from EWSD nurses said that there is a delay in the shipment of all of those, but students will be given a disposable mask if needed until supplies arrive -- as well at any time after that if a child is to forget theirs or needs a clean one during the day.
The nurses' message also said that gaiters, bandanas, ball cap shields, masks with respiratory valves, and those with inappropriate messages will not be considered appropriate coverings during school district-facilitated activities.
EWSD recently received 10,000 KN95 masks through a joint program with the Vermont Agency of Education and Transportation. Along with being provided reusable masks, all staff members will receive a face shield to use in unison.
Additional Safety Measures
A slideshow presented at the Aug. 18 school board meeting said that the district bought about 200 non-contact thermometers. Temperature checks will occur upon entrance to buses or buildings and by sinks or the nearly 100 free-standing hand sanitizer stations that were also recently purchased.
Staff in charge of taking temperatures will be outfitted with a facial covering, eye goggles or a face shield, and a pair of disposable gloves.
At this time, parents and guardians are not allowed inside of school buildings. That means they need to schedule a time with their respective school's nurse to drop off medications, inhalers, or epi-pens. Nurses also asked that students be sent to school with a labeled water bottle; bottle fillers will be accessible for children to use instead of water fountains.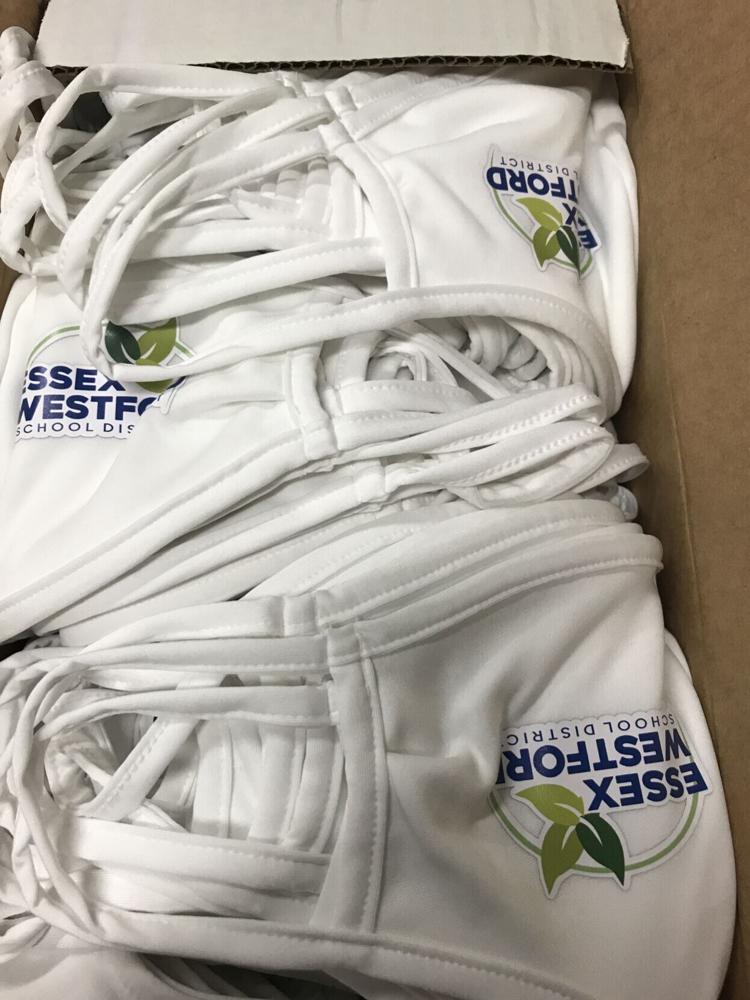 EWSD is asking families to keep their kids home if they experience any of the following symptoms:
Fever or chills
Cough
Shortness of breath or difficulty breathing
Fatigue for an unexplained reason
Muscle or body aches
Headache
Sore throat
Congestion or runny nose
Nausea or vomiting
Diarrhea
New loss of taste or smell
A child sent to school who displays any of those symptoms will be asked to be picked up by a designated family member or friend within 30 minutes of being notified.
Transportation
While the district will be providing transportation to school buildings during those days students have in-person instruction, EWSD is echoing the Vermont Agency of Education and Vermont Department of Health's recommendation that families do so on their own or have their kids walk or bike to school instead to minimize how many are on buses or at bus stops.
If families want to utilize the district's transportation, they will need to register to do so. Part of the reasoning for that is to help there be assigned seats in order to distance students as best as possible.
Students will be provided with hand sanitizer upon getting on the bus, and they will need to wear their face mask while riding unless they have an exemption form on file. Drivers will also be wearing masks while the bus aides will have both masks and face shields.
In the Aug. 18 presentation, the district said that buses will have their windows open except for "unusual circumstances." Families are encouraged to send students with appropriate clothing for when the weather is cold or drizzly.