ESSEX -- The joy of decorating the yard and the front of his house has led to an Essex resident reaching deep into his pockets for charity this holiday season.
Nate O'Connor's Cushing Drive home in the village became a hot spot last month as his family's extensive Halloween display, which included 12-foot skeletons, tombstones, and a plethora of season-appropriate lighting, was a popular visit throughout October. While Thanksgiving displays might be less common, he's kept some of his smaller bony friends out front in order to help raise money for local food banks.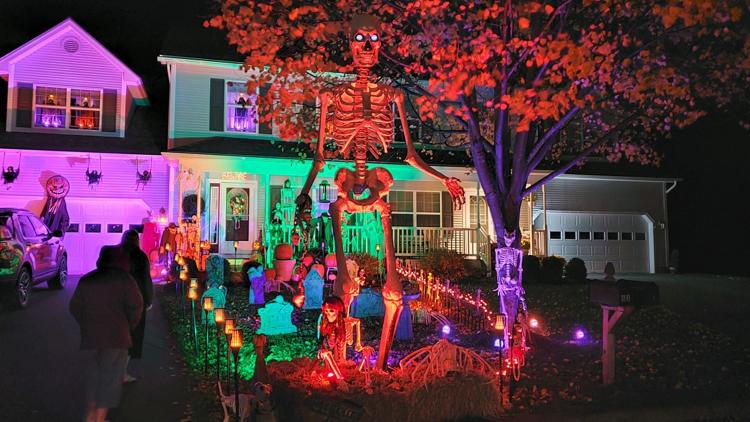 How much of his own funds he donates, however, is up to the public.
O'Connor has taken to social media and stated that for every person or family who takes a selfie, or regular poses photograph, in front of his home's Thanksgiving decorations set off of the Cushing cul-de-sac, he will give $10 to help fight food insecurity -- up to $1,500.
"That's something that just means a lot to me," said O'Connor about supporting ways to help others with food, having been on the receiving end himself when he was younger after his parents divorced. "Especially during this weird COVID time when jobs aren't always certain.
"I'm very, very fortunate to have a position in a company where I have pretty good job security," continued O'Connor, who's a scientist and product manager at MBF Bioscience in Williston. "I'm comfortable, and I'm not food insecure anymore. The thought of being [food insecure] just kind of hits me; I don't like it. So if I can do anything to help, that's what we try to do."
But he does have some rules which he added to his social media announcement about the fundraiser, some more lighthearted than others:
"It's gotta be a selfie (or pic of some people) taken with the TDay skeletons on our porch and posted to this post (in this Hangry Bones group) as a comment.

Don't be afraid to come to our house at the end of Cushing Drive in Essex Junction to take your selfie. I want to be able to donate at that limit I set!

Only one selfie per group or family will count as a $10 increase. However, feel free to post other photos in other posts. Enjoy the bones!

I'm leaning toward VT Food Bank for my donation, but am open to other suggestions.

Please ignore the barking shepherd dog in the house.

Please don't break the skeletons. They are fragile (I haven't given them milk or vitamin D in many years).

Don't pooh on my lawn.

Use common sense while posting. Be good to each other."
O'Connor created a group on Facebook called Hangry Bones, its info saying, "It's ok for skeletons to be hungry. It's not OK for people to be hungry." That group is where people looking to help him increase his donation total can post their photos, as well as on the posts he's shared from the group to other Essex-specific community groups. Non-Facebook members can also get involved by emailing their pictures to nathan.j.oconnor@gmail.com.
The Thanksgiving effort will continue through the end of the month, but it will be quickly followed by another -- with another $1,500 potentially being donated -- in December. O'Connor says he already has some grand ideas for his next display; that setup will include an 18-foot inflatable, well-known Christmas movie character, one whose heart grew to more resemble that of O'Connor's by the end of the popular Dr. Seuss tale.