Things seem to be going smoothly at the start of the academic year for the Essex Westford School District (EWSD), so much so that it has announced that some grades will begin having fully in-person instruction in the coming weeks.
In a late-July interview with the Reporter, Superintendent Beth Cobb said that she would have "ultimately wanted" to start the school year with students in grades PreK-6 being in the buildings for all five days of the week.
While the district ended up following suit of many others in the state, and those of Cobb's Champlain Valley Superintendents Association (CVSA) colleagues, by using the hybrid model across all of its grades at the start, EWSD has set a timeline for getting students in grades PreK-5 out of that style of learning.
"The reason we opened using a hybrid model was to decrease the class sizes so that we could meet the six-foot distancing protocol and to practice the other health and safety measures that we implemented in PreK-12," stated a Sept. 22 letter from Cobb to families. "Our staff have worked hard to make our opening a success."
That second sentence mirrors what the Reporter has heard from a few principals in the district this week with the overriding theme being that the beginning of the school year has gone better than anticipated. Cobb's letter went on to say that the Vermont Agency of Education (AOE) and the Department of Health recommend having students be taught fully in person "as soon as practical, especially for children in PreK through grade 5."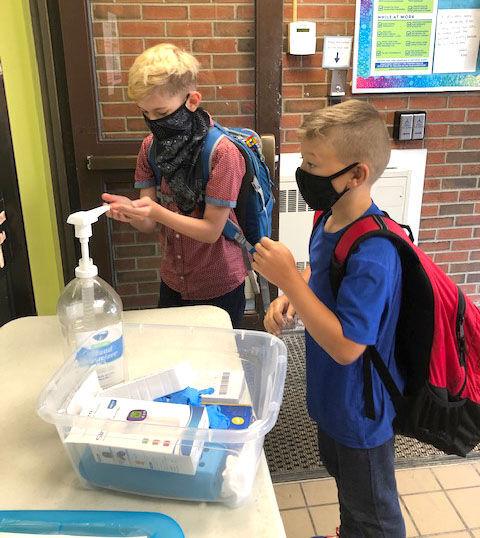 Vermont Governor Phil Scott announced Tuesday that the AOE has cleared schools to enter into Step III of reopening, but EWSD made its announcement prior to that press conference and was ready to make its move even if the state was going to remain in Step II.
After taking the latest guidance from the AOE and Department of Health into account, the CVSA determined three benchmarks needed for districts to allow for fully in-person instruction:
Adequate staffing
Well-established practices and routines
The Vermont Health Department suggests that infection rates are safe for districts to bring more students back
Cobb said EWSD feels "strongly" that it will be in line with those benchmarks and ready to welcome back students in grades PreK-5 for the full week starting the week of Oct. 5.
The phase-in plan for fully in-person learning is as follows:
Monday, Oct. 5: All K-3 students at Essex Elementary, Hiawatha, Summit, Westford, and Founders schools will attend in person; fourth and fifth graders in Cohort A will also attend school.
Tuesday, Oct. 6: All K-4 students will attend school in person; fifth graders in Cohort A will also attend school.
Wednesday, Oct. 7: All K-5 students will attend school in person.
Thursday, Oct. 8: All K-5 students will attend school in person; the evening parent conferences have been postponed.
Friday, Oct. 9: There will be no school, and scheduled parent conferences have been postponed. Teachers will use this day for the transition from hybrid to fully in-person instruction.
Families who opted to have their children participate in the Virtual Learning Academy and learn on a completely-remote basis will still be permitted to do so, but because of a high enrollment in the academy, students who were in the hybrid model will not be able to move to fully remote right away. Children who were in the Virtual Learning Academy and want to move to in-person instruction, however, will be able to do so.
EWSD has scheduled a teleconference meeting with its COVID coordinator and three members from the Vermont Department of Health for Sept. 30 so that families can have questions about health and safety of the recent development answered. It will also be recorded and available for those who cannot attend.
EWSD PreK-5 Parent Meeting with the Vermont Health Department
Date/Time: Sept. 30, 2020, 6 p.m.
Meeting Link: ewsd.zoom.us/j/93029190306
Meeting ID: 930 2919 0306
Passcode: 878047
Call In: (301) 715-8592 with ID 93029190306#