In a virtual format, the team from Essex High School (EHS) recently won the 2021 Vermont-NEA Scholars' Bowl high school state championship.
Led by coach and EHS math teacher David Rome, students Anders Holm-Brown, Eric Lu, Elizabeth Messier, and Patrick Herrin bested the other eight schools from throughout Vermont to take the title March 20.
"It certainly was a good day for the team!" said Rome. "They worked really hard all year to work up to this day, and all their determination paid off."
Generously sponsored by the Vermont-NEA, the Scholars' Bowl is a question-and-answer quiz competition similar to Jeopardy! but with a heavier focus on the academic curriculum. The 2021 version worked a bit differently, but that didn't seem to affect Essex High.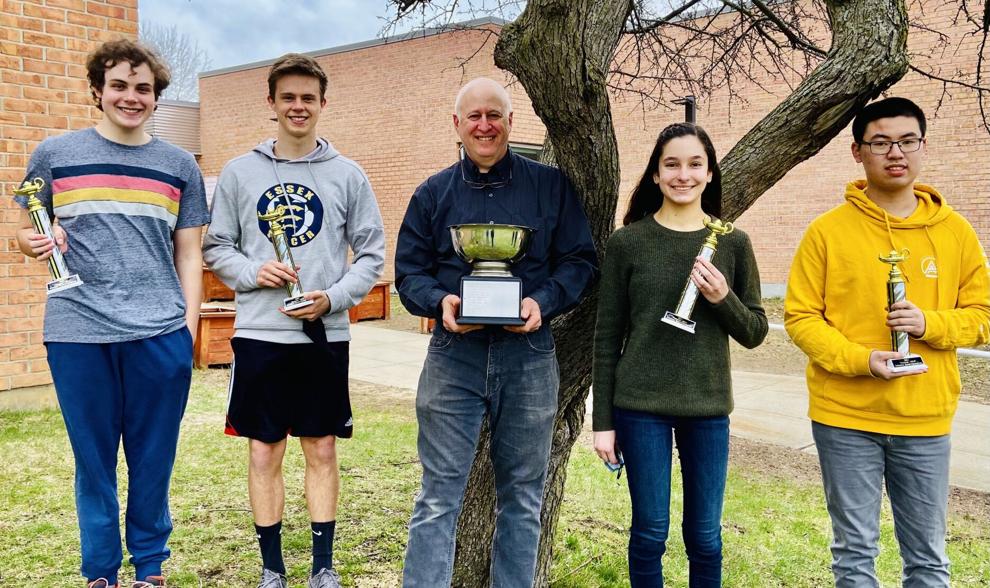 "Typically, we met two times a week – both online and in person – most of the school year, three times a week as the championship approached," said Rome. "The team adjusted well to the different format that we had this year, one in which a buzzer system was not used and collaboration between teammates was at a premium. While we participated in some outside tournaments, our main focus was always winning the state crown."
That collaboration was key in helping the team work from behind as it entered the third and final round of each match with a deficit to overcome.
"Both Eric Lu and team captain Anders Holm-Brown came up big when we needed it, and Patrick Herrin and Elizabeth Messier contributed nicely and backed up others' answers," said Rome. "This was a team truly built to support one another and rely on some for individual specialties."
After defeating BFA-St. Albans 240-130 in the quarterfinals, Essex found itself down 125-70 to Champlain Valley Union (CVU) in the semis. The Hornets swept their eight final round questions while stealing two through CVU misses to advance into the championship.
Against top-seeded Hanover – which posted a perfect record in the preliminary playoffs – EHS rallied to overcome a 45-point deficit over the last three rounds of competition. Rome's crew scored seven of the last eight questions correctly.
"With strong answers on a math and then a science question, the team demonstrated some amazing resiliency to win its ninth title," said Rome.
That ninth state championship for Essex is a Vermont record and gives the Hornets six crowns in the last eight contested years. The 2020 finals were cancelled because of the pandemic.