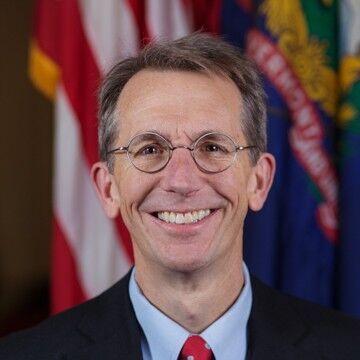 WOODSTOCK — On Monday, State Rep. Charlie Kimbell (D-Windsor-5) announced he is running for lieutenant governor, becoming the first to throw his hat in what is expected to be a crowded race.
Kimbell grew up in St. Albans, the youngest of eight kids. He attended City Elementary School, played little league baseball, delivered newspapers and skied at Hard'Ack Recreation Area before moving to Brownsville and attending Woodstock Union High School.
In mid-November, a retirement announcement from Sen. Patrick Leahy (D-Vt) caused a domino of political bids. Rep. Peter Welch (D-Vt.) announced a week later that he'd run for Leahy's seat, while Lt. Gov. Molly Gray, a Democrat, announced Dec. 6 she'd run for Welch's U.S. House seat.
Gray's bid for D.C. leaves an opening for a new Vermont lieutenant governor, a position with a sizable platform but little power.
"I am committed to working on legislation that helps improve the lives of Vermonters, and to helping constituents navigate state government. I have really enjoyed that work," Kimbell stated in remarks delivered Monday.
Kimbell graduated from the University of Vermont in 1986, where he competed on the alpine ski team and participated in student government.
Over the last 35 years, Kimbell has worked in businesses large and small like Vermont National Bank, Wild Apple Graphics and Manufacturing Information Systems, Inc.
Most recently, he and his wife, Carolyn, owned and operated a retail clothing store, Elevation Clothing, in Woodstock.
He's also served on the boards of more than a dozen non-profit organizations, including the Saint Albans Free Library, the Rotary Club of St. Albans and Hard'Ack, Inc.
"I love Vermont," he said. "I have chosen to stay here, to raise my family here and be an active member of the community."
Kimbell is serving his third term in the state legislature, where he is the vice chair of the House Committee on Commerce and Economic Development. He also sits on the Small Business Solutions Task Force and the Vermont Economic Progress Council.
Kimbell ran for Speaker of the House last year before withdrawing and throwing his support behind Rep. Jill Krowinski (D-Burlington). A self-described centrist, he opposed two bills to raise the state's minimum wage, but joined colleagues in overriding Gov. Phil Scott's veto of a more gradual wage increase. He supported the Global Warming Solutions Act, but criticized how it was described. 
As a lieutenant governor candidate, he'll start with four missions: putting families first, developing a Vermont Corps, ensuring rural vitality and creating small business.
"I truly believe in the Vermont political tradition of self-reliance, social justice, Yankee frugality and environmental stewardship," he said. "I look forward to bringing my lifetime of experience in our state to the office of lieutenant governor, to continue to serve the people of Vermont."