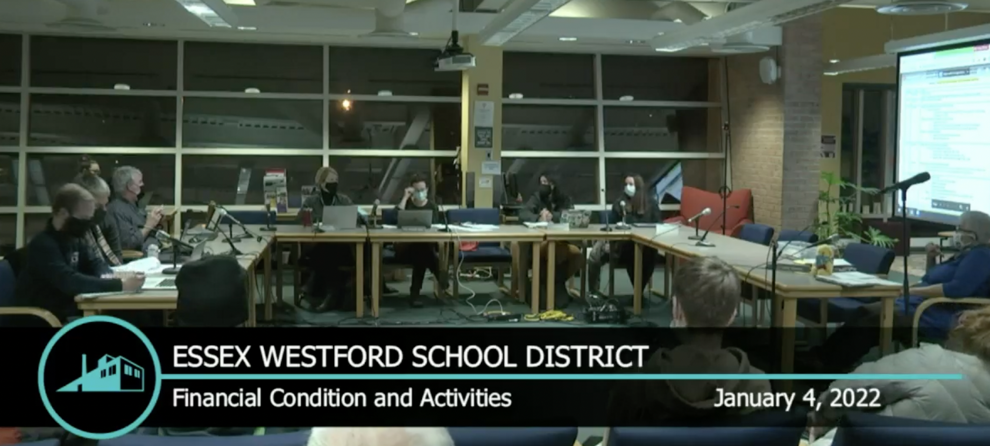 ESSEX – The Essex Westford School District board will hold a special discussion about board norms and conduct during its next meeting on Jan. 18.
The discussion was added to the agenda in response to school board member Elizabeth Cady's controversial and politicizing behavior as a representative of the school board. 
"I have reached out to legal counsel to understand the process of building the norms and what to do when people don't follow them," board chair Erin Kennedy Knox said during a Jan. 4 school board meeting. 
Cady's essay and backlash
At the end of December, an essay written by board member Elizabeth Cady was published in True North Reports and The Vermont Daily Chronicle. In the essay, Cady equates current public discourse about unvaccinated people to that of Jews during the Holocaust.
Cady wrote that she is concerned about how vaccination status is used to separate people into desirable and undesirable groups. The only difference, she wrote, is that religion and race were used during the Holocaust instead of vaccination status. 
"The case numbers in red and the rhetoric of our officials are very successful in promoting and continuing fear of this virus," she wrote. "And if we, the ordinary, everyday people, allow this fear to justify hate, that hate will grow exponentially."
Following the publication of the essay and a subsequent post by the New England Anti-Defamation League telling the school board to read Anne Frank's diary, EWSD Superintendent Beth Cobb issued a statement on Twitter: 
"On behalf of EWSD, School Board Chair Erin Knox and I, as Superintendent, would like to state unequivocally that nothing in Cady's article represents the policies or beliefs of our school district."
Previous conflict
This was not the first time Cady has been criticized for politicizing her role on the Essex Westford school board. 
At the last school board meeting before the essay was published, Knox expressed her disapproval of Cady identifying as a board member while speaking at anti-critical race theory "town hall" events in Essex and Rutland.
At these events, Cady gave advice to people about how to approach school boards with their concerns about critical race theory. Knox said she thinks that's a conflict of interest. 
"Liz, if you perceive that people don't know how to bring forth questions and concerns, it is your duty as a school board member to inform them of our policy and/or provide that information to the administration and board so they can address it," she said.
Tuesday's meeting
At its Jan. 18 meeting, the board will discuss how to monitor and review members' code of conduct. The meeting begins at 6:30 p.m. and can be viewed on Zoom or the Media Factory's Facebook Live.