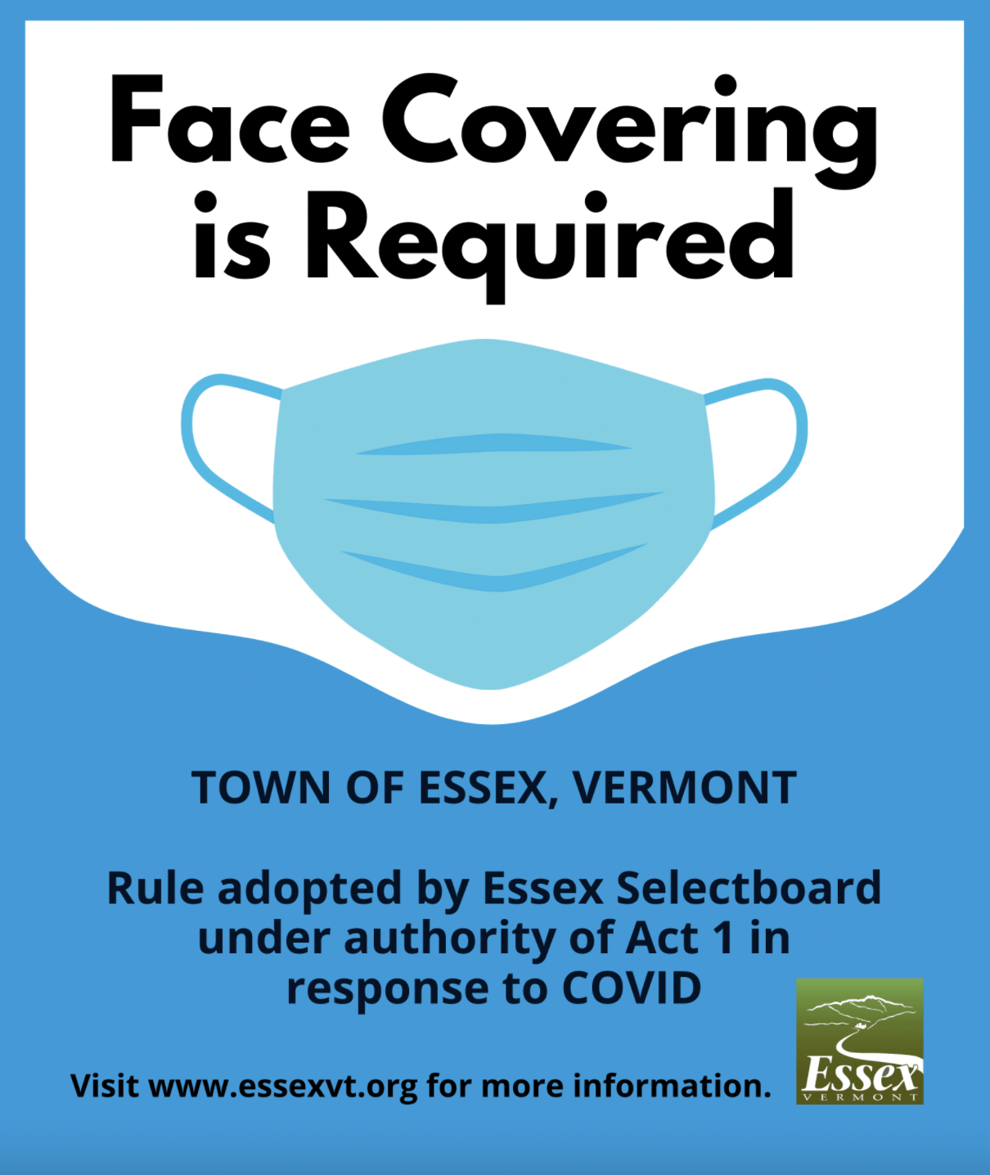 The Essex selectboard unanimously passed a town-wide mask mandate on Monday, Dec. 6.
To slow the spread of COVID-19, facial coverings are now required in all indoor spaces, with exceptions for those under age 2, for eating and drinking and for certain medical conditions. The mandate will not be enforced by Essex Police due to a lack of resources. 
The selectboard had planned to only discuss what a mask mandate might look like in the future, but ended up taking action due to the urgings of board members and the public. During public comment, over 10 people spoke in favor of the mask mandate. No one spoke against it.
Selectboard member Susan Cook said she didn't think the board should wait to take action. 
"We're at a point where COVID is escalating," she said. "I want to hear more from the public, but I think we need to respond as quickly as we can." 
Selectboard Clerk Tracey Delphia said she was disappointed with Gov. Phil Scott's Administration for putting the responsibility of mask mandates on individual towns.
"We are having the same conversations that are happening in many towns about the same issues, and at the end of the day, it comes back to the same science," she said.
On Nov. 23, Scott signed a law that authorizes towns, cities and villages to establish masking/face covering requirements. Local legislative bodies may initially adopt the face covering rule for up to 45 days and may renew it subsequently for 30-day periods through April 30, 2022.
Board members initially suggested the mandate be enforced. Vice Chair Patrick Murray even suggested a $50-100 fine for those who do not comply, but Essex Police Chief Ron Hoague explained that the department would prefer to take an educational approach. 
"The police department is not going to be enforcing this like speeding laws, we don't have time for that, we don't have the interest in that," Hoague said.
He expressed concern at having to use police resources to respond to people who are disobeying the mandate.
The selectboard also discussed how the guidance would apply to houses of worship. 
Chair Andy Watts said recommendations from the state say that houses of worship should get similar exceptions to masking as secular spaces, such as when eating and drinking.