ST. ALBANS – Documentary filmmakers Jordan Rowell and Duane Peterson spent two weeks last summer kayaking over Lake Champlain to collect stories. 
This year, the Essex High School grads are making a lap around Vermont, to screen what they've found. 
The two filmmakers will be screening their 40-minute documentary "No Other Lake" at St. Albans Bay this Friday as a way to renew focus on Lake Champlain and its ongoing water quality issues. 
For the two Vermonters, the trip was a way to connect with a place that's always played a heavy role in their lives, even if they didn't know it before the trip.
"We're all extremely deeply connected to [Lake Champlain], if we like it or not," Peterson said.
In their backyards
Peterson and Rowell grew up in Essex. With Lake Champlain always being in the background, Rowell said they didn't think too much about the lake outside of some occasional use. 
Growing up, he'd go to the beach "to throw mud at friends, or drink slurpies." Or when out-of-staters visited, he'd bring them to Burlington's waterfront to show off the view. 
A college course on environmental issues, however, flipped his thinking about the lake. Here was a giant body of water within walking distance that thousands of people used every day. And it, too, was dealing with water quality issues. 
Rowell called up Peterson, a high school friend who turned video-making into a career, and he pitched the idea to make a documentary about the lake. The premise? They'd take two weeks to kayak the lake and talk to the people involved with cleaning it up. 
"The idea is it's sort of a listening tour, traveling along the place and listening along the way," Peterson said.
While Peterson had a feeling it'd be more work than what Rowell initially imagined, he jumped into the project anyway. 
Just like their shoots in high school, Rowell would be in front of the camera, and Peterson would be behind it. Rowell directed and produced the shoot. Peterson served as the main cinematographer. 
On the lake itself, Rowell paddled ahead on his kayak with a GoPro, and Peterson followed while riding a 12-foot dinghy stuffed with camera equipment and equipped with a small onboard motor 
"It was just enough to keep up," Peterson said.
Somehow, they kept the two-week shoot on schedule, and they made it to their pre-arranged interviews on time. Alongside beautiful shots of the lake and its landscape, the documentary also features snippets of 12 interviews the two filmmakers conducted. They include appearances by students, environmentalists, farmers and other conservationists concerned with keeping Lake Champlain water's clean.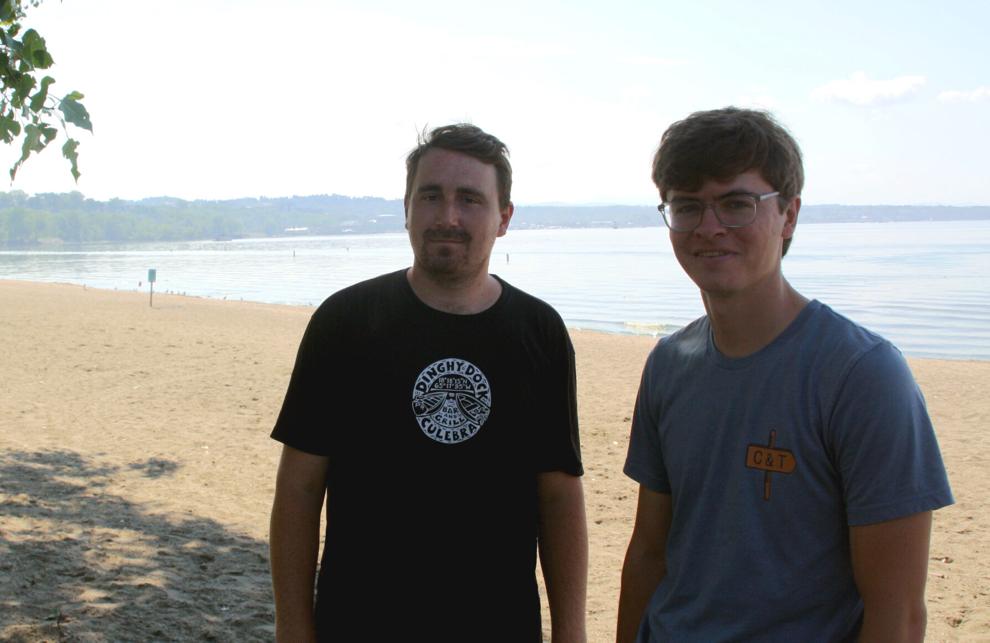 Swanton's own Karen Fortin appears in the video to talk about her work at Carman Brook Farm and as a member of the Friends of Northern Lake Champlain.
"She makes a strong point," Peterson said about Fortin's appearance in the film. "If you point fingers…that's not going to get us anywhere. We're just going to be fighting and bickering forever. What [cleaning the lake] is actually going to take is stopping and listening to people, giving them the benefit of the doubt and really hearing them out."
Scouting the lake 
Now that they've wrapped up their adventure, Rowell said they're taking the film across the state to use it as a tool to get people interested about lake stewardship.
Before he started on the project, Rowell said he had often taken Lake Champlain for granted because of its ubiquity. Vermonters drink its waters daily, but the responsibility to maintain those waters are often thrown onto governments tasked with regulation, or onto nonprofits concerned with water quality. 
Through "No Other Lake", the filmmakers argue that the reality is that everyone within the Lake Champlain water basin has some responsibility for the work. Rowell starts the documentary from the top of Mount Mansfield to illustrate the point; water runs downhill and can collect sediment from anything in its way. 
Ultimately, that water ends up in Lake Champlain. 
"There's not just 'the lake people'. We all need to be lake people in some way," Rowell said.
Everyone owns at least a piece of the puzzle, he said. From Whitehall, Vermont, to Pierre, Quebec, anyone living near Lake Champlain has a role to play. 
Traveling on the lake, Rowell said he got to meet a few of the diverse cultures and people that make up the basin's population. While it would take a whole lifetime to meet everyone on its borders,the two highlighted Point Bay Marina and Chipman's Point as some of the new places they got to see while traveling the lake.
"Every nook and cranny people have lived there their whole lives and they can tell you all about it," he said.
Rowell said one takeaway from his experience is learning that environmental stewardship isn't just an extra part of what people do, but it should be baked into every process. 
Anyone standing on Lake Champlain's shores this week can see what happens otherwise.
"They see that green stuff in the water," Rowell said. "It's that sinking feeling of, like, 'Oh, we all sort of share that."