Lines don't need to be dropped too far down into the lake to find some prized catches this time of the year.
Ron Winter, a decorated angler from Essex, was mentioned in the latest Vermont Fish & Wildlife Department report with tips about how to catch the species.
According to the Vermont Fish & Wildlife Department, salmon and trout are usually low-level swimmers, but this time of year sees them heading towards the surface of the grand lake more often.
Winter says the shallow surfaces are reading at 41-45 degrees with certain pockets of Champlain reaching 46-50 degrees. Those warmer areas likely hold schools of salmon--especially near the outflows of small creeks.
Winter suggests that fellow anglers also look up and pay attention to the birds--as their activity is usually a sign that salmon are aggressively pushing baitfish to the surface of the water.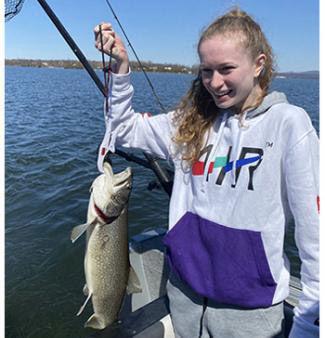 It's believed that small minnow-shaped or spoons that are trolled about five feet under the surface will likely catch some fish. Winter says he's had a good deal of success trolling on the Colchester Fill with his kids--catching trout and salmon in depths of eight feet.