ST. ALBANS — This weekend Dairy Farmers of America distributed 4,000 gallons of milk to groups and individuals from Chittenden and Franklin County during June Dairy Month.
The St. Albans Cooperative Creamery, part of Dairy Farmers of America (DFA), brought a temperature-controlled trailer to the Champlain Valley Exposition Friday morning and gave out about 2,000 gallons. It then handed out the other 2,000 on Saturday at the Creamery Store.
"It's a great way to be a part of the community and give back," said Kiersten Bourgeois of the coop, "and I think it's been a great day. This is milk that we wanted to make available to folks that are serving families. COVID has taken its toll on a lot of families. You're hearing a lot about job losses or slow return to work, and we're wanting to do what we can to give folks a hand."
In addition to families driving through the two sites, Bourgeois said there were over a dozen organizations that were able to pick up some of the supply for later distribution to those in need. They included the Committee on Temporary Shelter, Feeding Chittenden, NorthWest Family Foods, and the Essex Westford School District (EWSD).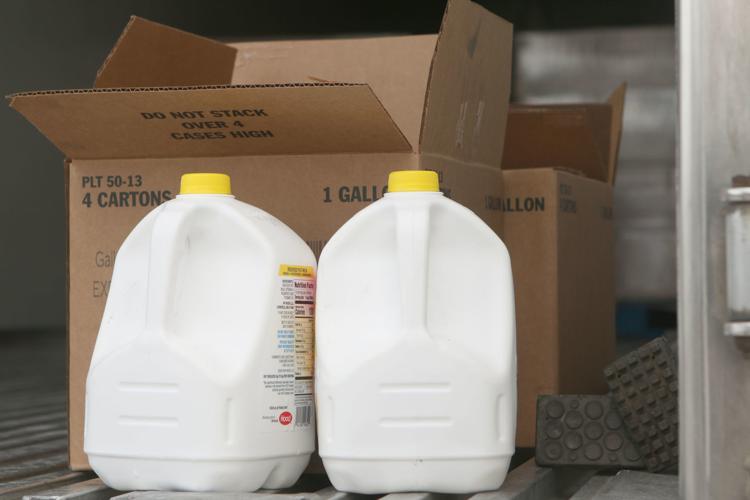 "Thank you, Dairy Farmers of America, Inc.!" read a post on the EWSD Farm to School and Child Nutrition Facebook page. "Pick up a gallon or two at Albert D Lawton between 8-10 am on Monday the 29th!"
Bourgeois said the weekend's giveaway was the coop's third distribution event this summer — one of its members recently held one in St. Albans while there was another simultaneously held in Middlebury.
When schools and restaurants began shutting down in response to the coronavirus earlier this year, it caused a large drop in demand for milk, leaving farmers with milk that had no place to go. Rather than simply throwing that milk away, DFA has partnered with other organizations to get some of that milk into the hands of families in need.