Leave it to an art teacher to get creative and think of a new way of getting students to understand information being taught in another classroom.
Following their winter break, Essex Middle School (EMS) seventh graders learned about human anatomy with a unique project that was both eye creating and eye opening: actually making an adult-sized body to scale including detailed organ systems inside.
The project was in response to how the school's academics were organized for this academic year with students having limited access to unified arts – such as arts, applied math and tech, STEM, and music classes. Instead, the teachers tried to integrate those electives into the core curriculum.
Science teacher Henry Shepley said it was the idea of art teacher Michelle Badji to have the kids use her supplies and make the bodies.
"The kids really enjoyed it, and I think they really came out well," Shepley said. "I guess one of the pluses of those smaller classes was being able to spread the kids out and try something new that's so intensive."
Shepley said the project was enlightening in a way to him and fellow science teacher Andrew Kasprisin as well.
"The one thing that Mr. Kasprisin and I really enjoyed about this was how concrete the connections to the systems were as students were making them," said Shepley. "So the standard that students have been working towards with this project is really an argument of how all the body's systems work together."
The body creation project will likely not be a one-and-done at EMS as its science teachers are already thinking about how they can improve and expand upon it.
"We were thinking, as the project began to kind of develop, about how we could do this in a normal class with 20, 25 kids, and there are a lot of different ways that we were thinking about doing it. We definitely want to try it again," said Shepley.
However, Shepley thinks they might try a more-compartmentalized approach as they move through the units – creating the skeletal and muscular systems by themselves, for example, once the students understand them well enough – instead of piecing it all together at once.
Building the bodies
"You have to get a lot of saran wrap and a lot of packing tape," Shepley noted about how the students approached getting started. He said the teachers were wrapped up themselves before tape was applied for rigidity. The students then used a wide array of items to continue making each piece.
"If something came up, we would just go grab it from Michelle Bodji's art closet, which is just a treasure trove of random materials," said Shepley.
The kids researched the organs they would be making and began to understand the math that was involved as they moved along.
"They began to realize that they needed to figure out, for example, the femur," said Shepley. "You can't just make a random femur; you have to go to the shell and measure that space to use as a starting point. So it's this on-demand learning that drives the creation of the parts."
Shepley said telling a student how long the small intestine is one thing, but for the students to actually be able to see it right in front of them after having made it themselves made a much bigger impact on their understanding.
Once the various parts were made and ready to go, the students would then place them around the skeletal foundation before putting the final touches on in the last few days – needing to remember what they learned about ligaments being necessary to connect everything. In total, the construction took about six days of in-person instruction.
"The response was great," said Shepley. "The kids were all really on board with it. I thought they thought it was kind of crazy to begin with, but once they started seeing themselves making it and the body taking shape, that's really when momentum really started to gather."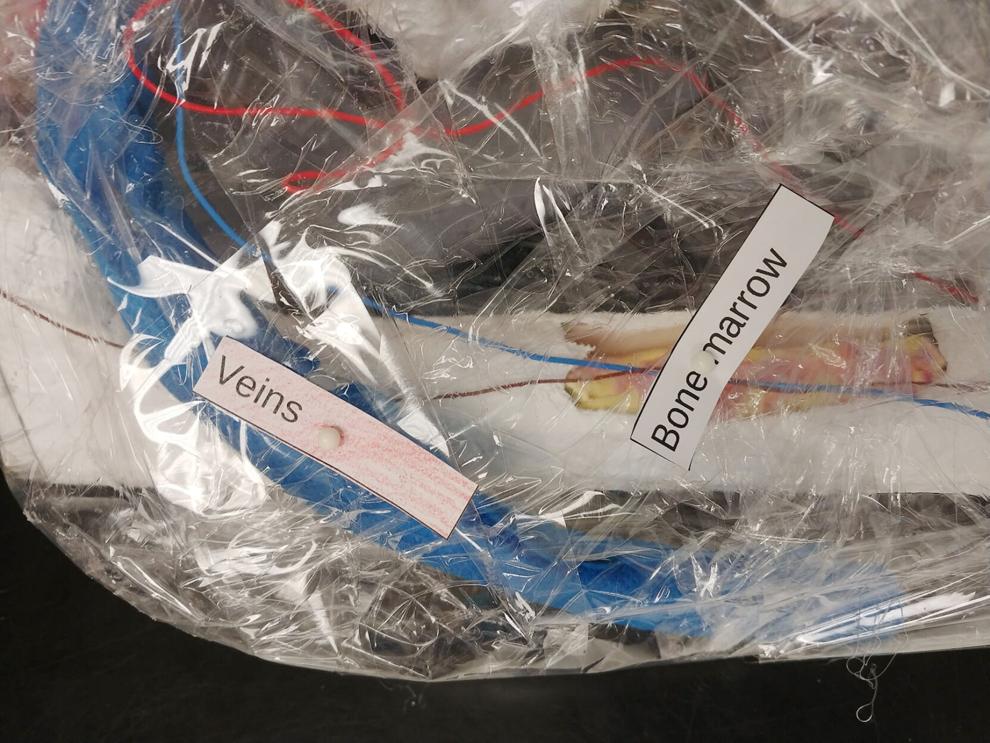 What happened to them after?
Once the bodies were done being made, Shepley said the students needed to write arguments for how all the systems worked together. Those arguments were then put out in the EMS hallway for display alongside the bodies which will remain there until about mid-April.
After that, Shepley and Kasprisin will likely each preserve a body for display in their classrooms for future examples – and maybe a sentimental touch to their room's decoration – while the others could possibly be deconstructed to try and reuse some materials the next time around.
Science and the arts
Shepley thinks he can envision future, similar joint efforts between the departments as it seemed to be obviously logical.
"I feel like there's so many opportunities in science to collaborate with the arts," he said "I feel like it's hard to look at those things as different, because they are all an expression of understanding. So I think there are opportunities for it. And having done it now with Ms. Bodji, I think it would be interesting to see where we could take it in the future when school goes back to the more traditional schedule."