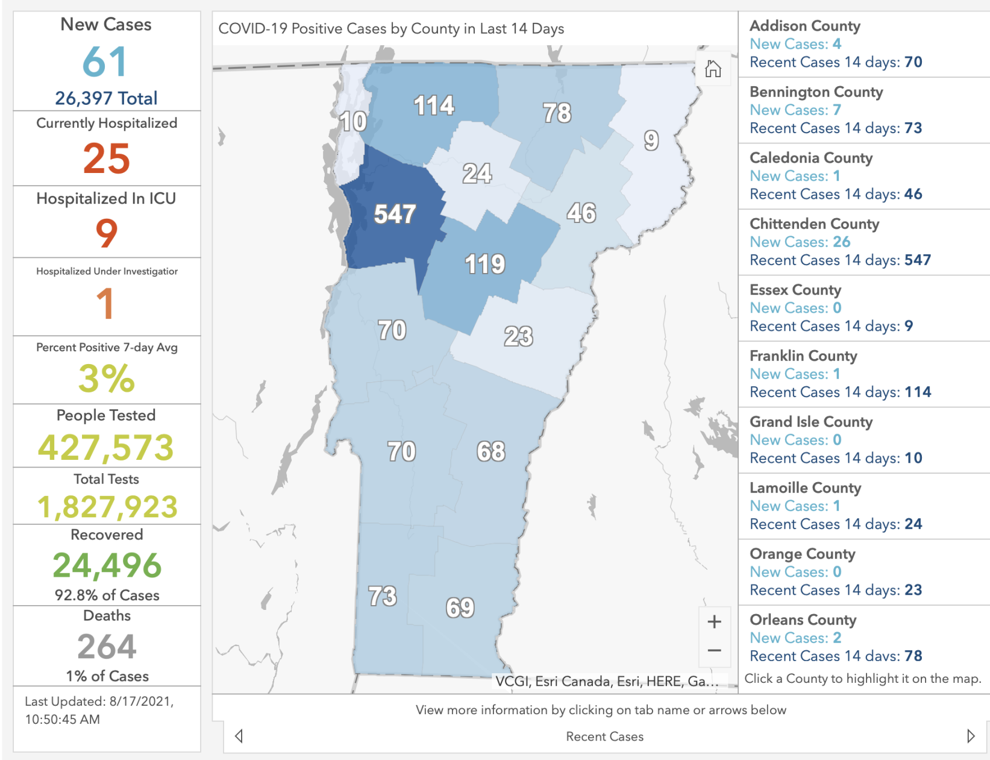 As of Aug. 17, Chittenden County saw another increase in cases of COVID-19 this week, bringing the case count for the county to 567 in the last 14 days, compared to last week's 382.
Chittenden County is following the trends of the entire state, which saw a 41% increase over last week, according to data from the Vermont Department of Financial Regulation (DFR).
The state's case growth rate, however, slowed down to half of what it was last week, according to DFR Commissioner Michael S. Piecak.
Cases continue to mostly occur among the unvaccinated population. Data shows the infection rate among the unvaccinated population is 3.5 times higher than the vaccinated population.
In addition, 2,825 Vermonters chose to get their first dose of the vaccine this past week, bringing Vermont's percentage of people who've had at least one dose to 85.1%.
Breakthrough cases are few and far between
Data shows that breakthrough cases, which occur when someone who is vaccinated tests positive for COVID-19, are extremely unlikely.
Over the past seven months, less than a quarter of a percent of vaccinated Vermonters tested positive with 630 cases showing up in a vaccinated population of 418,230.
In addition, 18 vaccinated Vermonters were hospitalized in the past seven months, .004 % of the population of vaccinated Vemonters.
There were eight deaths over that same period of time among the vaccinated population in Vermont, .002% of the population of vaccinated Vermonters.
Only 2% of positive cases have occurred in the fully vaccinated since January, said Gov. Phil Scott at his Aug. 17 press briefing.
Vermont has continued to have the lowest hospitalization rate in the country, which can be attributed to the state's high vaccination rate. On average, 74% of hospitalizations in the state are among the unvaccinated, according to the DFR.
Since the beginning of August, the state has reported four deaths from the virus, according to data from the DFR.
At his weekly press conference on Aug. 17, Vermont Gov. Phil Scott said that throughout the pandemic Vermont has led the nation as it continues to lead the nation today.
Certain eligible individuals may receive booster shot
Certain eligible Vermonters will be able to receive a third dose of the vaccine this week.
New federal guidance says that people who are immunocompromised and have received either the Pfizer or Moderna vaccine, should receive a third dose.
"Even in Vermont, where we have some of the highest vaccination rates in the world, it can still be highly beneficial for the public to have extra protection right now, during the Delta surge," said Vermont Health Commissioner Mark Levine at the press conference.
Levine said people who qualify include people who have received cancer treatment or an organ transplant, those with congenital immunodeficiency, individuals with HIV or individuals on steroid treatment.
If unsure about whether or not you should receive a third dose, you should talk to your doctor, Levine said.
Third doses can be received from certain doctors in the state who provide the vaccine, as well as at pop-up clinics which will start administering booster shots later this week.
A list of pop-up clinics to get vaccinated can be found here.