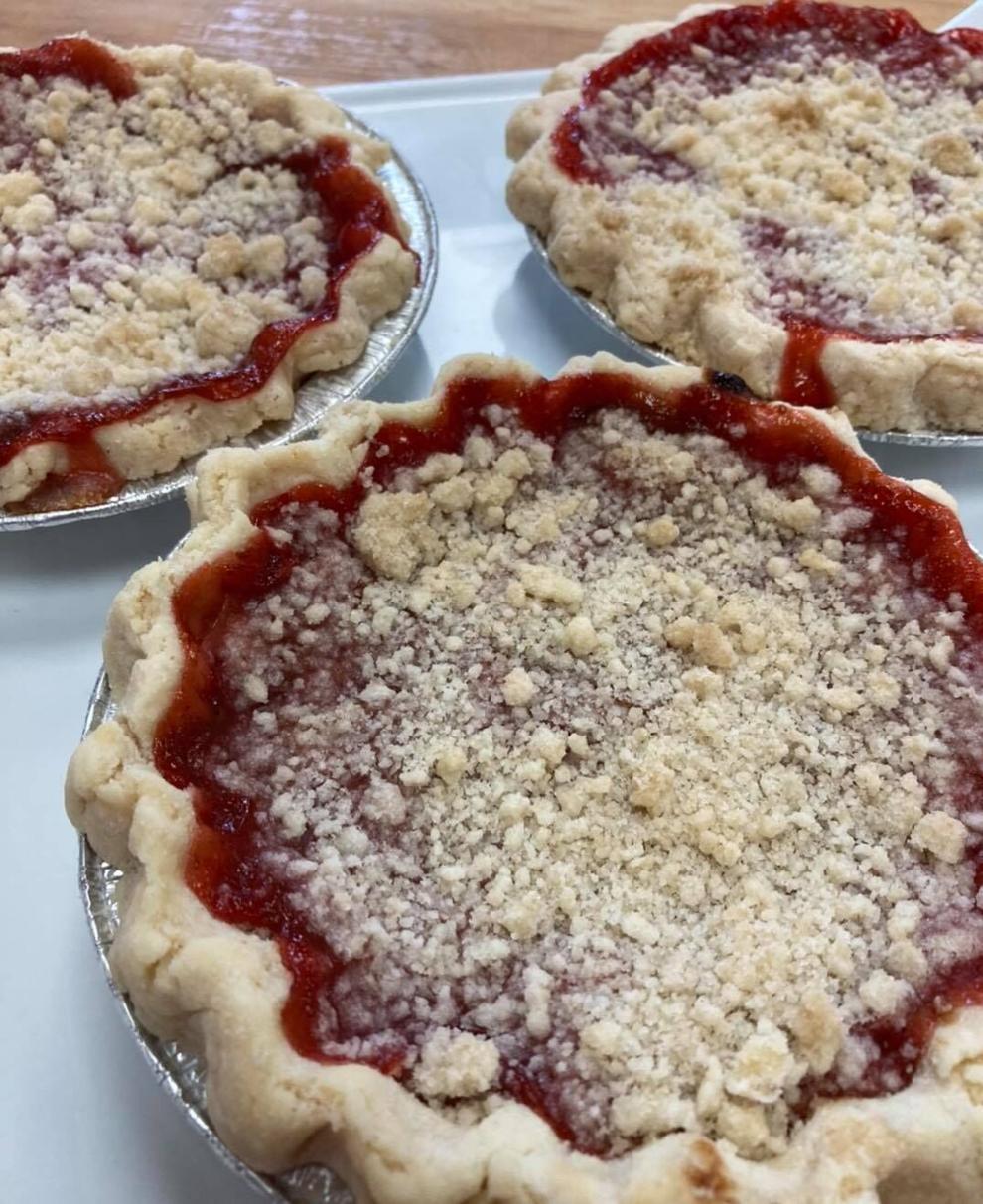 ESSEX JUNCTION — With its unique gluten free pastries, West Meadow Farm Bakery has a special mission to feed the customers other bakeries sometimes forget about.
West Meadow Farm Bakery in Essex Junction makes warm and crusty gluten free pastries such as chocolate cookies and pumpkin muffins for people living with celiac and other gluten intolerances. The bakery also caters to those who just prefer to eat gluten free. 
For owner Lois Blaisdell, the goal of these pastries is for them to taste 'normal.'
"I was diagnosed with Celiac disease in 1997, and back then we had a very active celiac support group. I was always baking for them," she said.
Blaisdell studied nutrition in college, and in 2003 she started a home business, mostly creating custom orders of pastries for local clients. 
Eventually, she got her baked goods into Hunger Mountain Coop and Healthy Living Market, and by 2019 she had her own commercial kitchen on Carmichael Street in Essex Junction.
Gluten free goods have changed over that time period of time, she said.
"There were only a limited number of national brands producing gluten free products. They weren't very good, but you could get some breads and cereals," she said. "Now there is more variety available that tastes better, and there is a greater awareness of Celiac disease."
The flours that make up their baked goods were designed by Blaisdell and her staff and are now manufactured in the state of New York, she said.
The bread flour is made of brown rice flour, tapioca starch and xanthan gum, while the all purpose flour is made of white rice flour, potato starch, tapioca starch and xanthan gum.
Blaisdell and her staff experimented with other flours, such as garbanzo bean flour, but found those flours left a less than pleasant aftertaste, she said. 
In order to experiment with better flours, Blaisdell turned to other bakers she admired such as Betty Hagman.
"Her flour mixes had milk powder in them, so we decided to skip that so we could lessen the allergens in our products if that was possible," she said.
West Meadow Bakery has a wide customer base, despite being an exclusively gluten free bakery. 
"The customer base has grown because of more people having a preference for gluten free goods. Also, some of our customers like our products just because of the taste," she said.
The bakery probably benefits from being near Burlington versus being in the Northeast Kingdom, she said.
Tourists and locals also learn about the bakery through its partnership with restaurants offering gluten free substitutes such as crispy pizza shells and doughy breads.
Due to Covid, the bakery had to lay off employees before eventually rehiring them or finding someone new for the empty positions, Blaisdell said.
Since the business has a license for a bakery and a restaurant, Blaisdell pivoted the business to the bakery side of the business during the pandemic, she said.
"During the beginning of the pandemic, the restaurants stopped buying our pizza crusts, but that has mostly rebounded." she said.
The bakery has also gone back to delivering to Healthy Living and City Market twice a week, instead of once a week during the pandemic.
West Meadow Farm Bakery is open Tuesday-Friday 9 a.m-3 p.m. and Saturday 8 a.m.-3 p.m. It is located on 4 Carmichael Street in Essex Junction. For more information about the bakery, visit their website westmeadowfarmbakery.com.