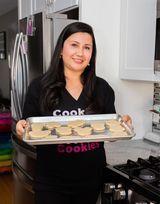 For Paulina's Sweets, the draw to customers is in the details.
Each cookie at this Essex bake shop is decorated with royal icing and edible paint. Cookies depicting the sisters from the Hocus Pocus movie — part of a set being sold on her website for Halloween — even have red, blushing cheeks. 
And they're customizable for any occasion, owner Paulina Thompson told the Reporter.
"Say you like the TV show Friends or certain musicians and you wonder where you can find cookies like that? People are drawn to the customizable aspect for birthdays and other occasions." Thompson said.
Paulina's Sweets offers a variety of cookies that kids and adults can paint themselves before eating. These sets became especially popular among parents during the beginning and middle of the COVID-19 pandemic when kids were not at school, Thompson said.
She is still careful about COVID-19 and takes precautions by offering no contact pickup on her front porch. She also individually wraps each cookie she makes to protect people in large groups and gatherings from transferring germs to one another.
A love of cooking
Thompson grew up loving cooking. In Mexico, her country of origin, she got into making cakes after her mother made some for special occasions when she was young. Two years ago, she took a cake baking class at Champlain Valley Union High School. 
She eventually became more interested in making cookies because of the pressure to make it perfect for someone's special day, whether it be a birthday or wedding or something else. 
She also enjoyed the artistic process of baking the individual cookies more than designing a cake. 
And she decided to turn it into a business, she said, after being frustrated trying to find cookies that tasted good but were also pretty.
She decided to make cookies herself since she already was doing that every year for Christmas. She learned from videos online how to make the cookies and began giving them to her friends.
After getting a few orders from Front Porch Forum, she gained the confidence she needed to make it an enterprise.
Custom cookies
Paulina's Sweets offers a variety of dozens based on the amount of colors used and the cookie size. An order form with a description box on Thompson's website offers the opportunity to customize the cookies as much as the buyer desires.
While she tries to make her cookies without preservatives and with local ingredients such as Cabot butter and King Arthur flour the custom designs are the most important to her, she said.
Thomspon watched other bakers on Facebook to figure out the best way to create cookies by tweaking the recipe if something went wrong.
"If your cookies burn at the bottom you might change the cooking time or if the consistency is wrong you might change your ingredients" she said.
Paulina's Sweets can also be found on Instagram and Facebook where updates and pictures of the type of cookies she makes are available. 
Editor's Note: This article was updated at 9:00 a.m. on Oct. 15 to correct that Paulina uses royal icing on her cookies and not buttermilk icing.