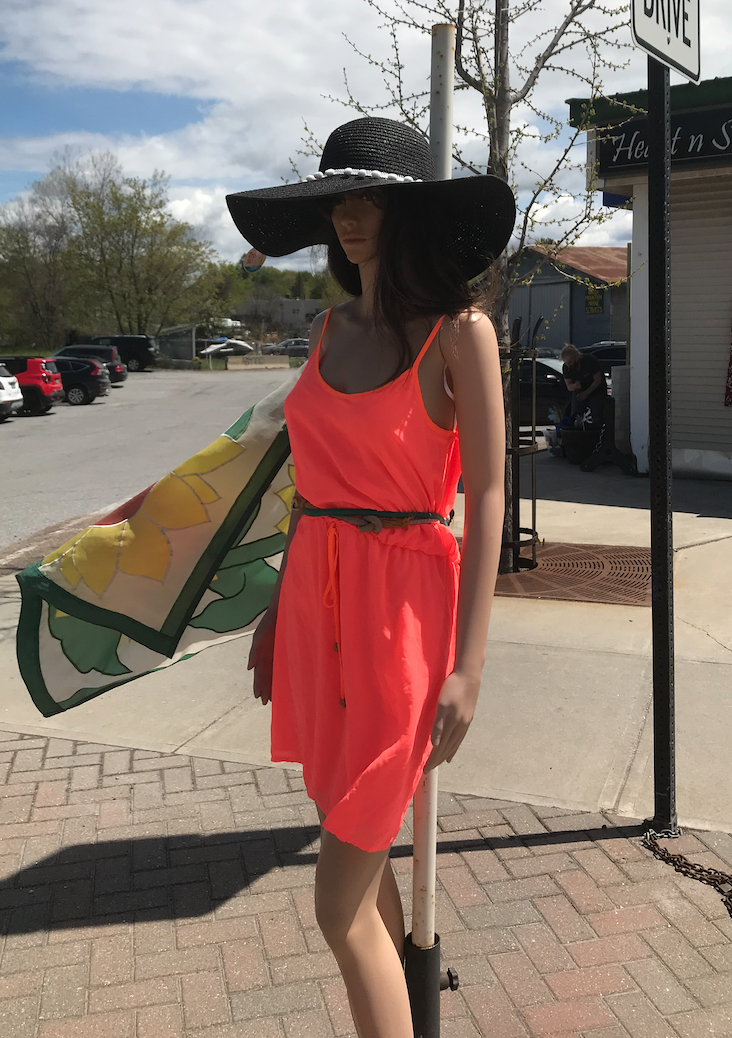 ESSEX JCT — On Park Street in Essex Junction, Jojo the Mannequin stands by the side of the road marking the location of Karen's Kloset. 
The thrift shop is filled with used maternity wear, nurses scrubs and designer bags. Karen Alderman, the owner of the store, buys them herself from the community and resells them.
She bought the store in 2012, and she has changed it a lot, Alderman said.
"I brought the prices down to used clothing prices and added lots of different departments such as maternity clothing, nurse's scrub and plus sizes," she said.
Traveling nurses like her scrubs, and Alderman believes she has the best selection of maternity clothing in the area. 
She receives a lot of support for her business from groups for moms and kids on Facebook.
"Everyone who needs Maternity clothes knows there's nowhere else in the state that has as much as I do," she said. "The word gets out." 
While Alderman has a group page and a business page on Facebook, she said she doesn't reach as many people on the social media channel as she used to.
"Facebook has made it tough on small business owners that don't have a lot of time to focus on social media and that don't have their own social media manager," she said. 
This is because Facebook has recently changed the way it operates, she said.
"On your News Feed there's a friend, a business and a sponsored ad," she said. "Out of five posts you might see only one business post. With sponsored ads, if you don't rank high enough on Facebook you won't get shown as much." 
Alderman believes it's important to pay attention to social media as a small business owner.
"I post on Facebook every day and try to post every day on Instagram," she said. "I don't sell online which hurts me, but I don't have time." 
She has thought about selling online on Shopify, but has not had the time to figure it out yet.
During the COVID-19 pandemic, Karens Kloset closed for ten weeks from March to May 2020. 
"People are just starting to come back out," she said. "The dressing rooms being open is helpful. Most stores don't have that." 
"It's been tough because I can't approach people because they back away, but that's getting better with people getting vaccinated now." 
Alderman said she lives frugally. Her kids are adults and she no longer worries about their expenses. She splits her housing costs with a roommate and puts what little she makes back into the business, to pay her own bills and shopping locally.
Alderman took advantage of some of the federal relief loans, but the process of getting them was not always easy.
"I didn't apply for the first loan because it had so many restrictions and people weren't sure how it worked," she said. "I got the second one, but the third one Gov. Phil Scott offered was really tough and I had to give up on it." 
Alderman buys maternity clothes, scrubs and designer bags, which she sometimes puts on consignment after painstakingly checking if they're authentic. She accepts donations for everything else in the store.
"Rather than leaving their unwanted clothes on the street or throwing it in the garbage they bring it to me, which helps me and helps keep prices lower in the store," she said.