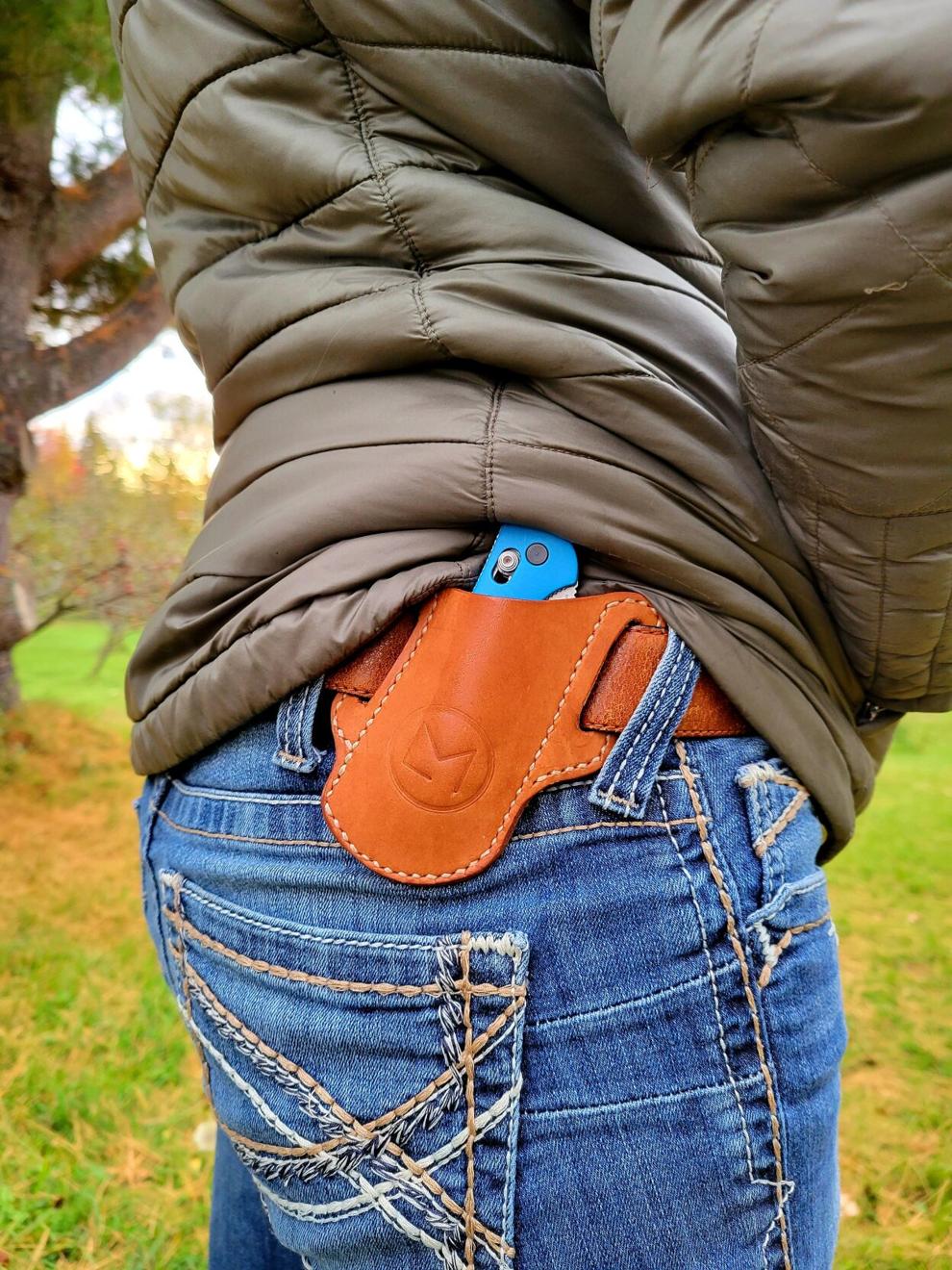 ESSEX — Last spring, Ober Lopez decided he wanted to do something different than the job he had for the last fifteen years. 
Enter: OLM Leatherwork, a leather goods company he runs out of his home workshop in Essex with his wife Abbie. 
The business makes bags and bracelets for women and tri-fold and five-fold wallets for men. The couple also makes knife sheaths and utility pouches and are working on making a line of clutch bags for women in the near future. 
While Ober punches holes, hand stitches and handles the technical aspects of creating the leatherwork, Abbie is in charge of creative choices such as picking out colors and marketing.
Abbie and Ober are "outdoorsy people" and wanted to make accessories for the outdoors. After being unable to find a knife sheath that fit their standards, they decided to create their own, Abbie said.
"The people who buy our stuff are outdoorsy, utilitarian and appreciate really rugged stuff that's going to last for a long time," she said.
Many of the product designs are inspired by what the couple has seen by travelling together as well as the places and cultures they grew up in.
Ober was born on a Coffee plantation in Mexico and has lived in Vermont for over 16 years. Abbie is a Vermont native.
Entrepreneuring during a pandemic 
After working as a production manager for Claussen's Florists for fifteen years, Ober decided to take a break in April. During that time, he tried crafting, which he had enjoyed in the past, Abbie said.
"The idea to do this was born out of the pandemic," she said. "I read somewhere that there's been about a 30% increase in the number of small businesses that have been created in the last year and Ober definitely fits into that category."
Starting a business during the COVID-19 pandemic was not without its challenges for the couple.
Olm Leatherworking products
"It's scary even in a non-pandemic, but to make this decision when there is so much upheaval there is anxiety. Sometimes they get mixed and you're not sure what you're feeling," she said.
Speaking for Ober, she said the biggest change was having to make a schedule after working in a structured job for many years. 
For Abbie, it means working late nights, since she also works another job full-time.
Future plans 
The business was forged through a hard time, but Ober said he is optimistic about the future.
"As someone told me once about the business, it can go good or it can go really, really good but to get there you have to push yourself and commit to it, that's where I'm at right now," he said.
The business relies on word of mouth from the couple's friends and their Facebook page to get the word out, Ober said.
"Some people had asked me if I wanted to do craft shows but with the pandemic, we aren't sure and with the local farmers markets ending we decided we might consider it for next year," he said.
Currently, most of OLM Leatherworks customers are in Vermont. The couple is trying to get the word out in a way so they don't get too many orders too quickly as they start up. 
"Our hope is that we can eventually have these products available to a U.S. audience," Abbie said.