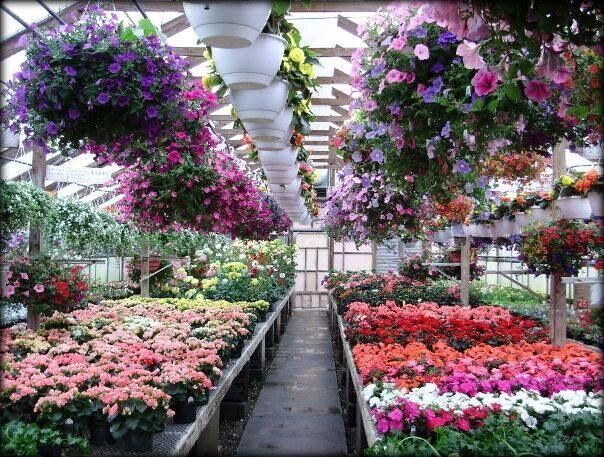 COLCHESTER — Claussen's Florist and Greenhouse might have a lot of pretty flowers, but their business operation isn't as simple as it looks.
Claussen's Florist and Greenhouse in Colchester is a massive producer of plants like flowers, vegetables, fruit and houseplants for both commercial and retail customers in the area.
Vice President Chris Conant said the greenhouse is currently in the middle of its busiest season, which starts in early May and ends in the middle of July..
To accommodate the increase in customers, additional seasonal workers, some of which are transient and between jobs, are hired, Conant said.
The job involves a lot of agricultural labor, which was challenging during the pandemic when several staff had to be laid off, he said.
"It was not an easy process because we were doing our work with a lot less employees because most of them were furloughed," he said.
Thirty-five part-time and full-time employees were furloughed until May 1, 2020, he said.
"We joke that a good day was when only three of us went home crying, but our customers and employees were awesome and we made it through," he said.
Shifting from a walk-in business to a curbside pick up business at the beginning of the pandemic was like learning to sell plants again, he said.
Conant was grateful for his daughter Ali Lapierre, who had set up the online and social media side of the business.
"We had to work on handling plants properly and safely for our customers and employees," he said.
If it hadn't been for the experienced employees, some with over thirty years of experience, working during the beginning of the pandemic would've been more challenging, he said.
The most challenging time for the business was a month ago in May when the store still required masks to be worn by all shoppers, he said.
"People were confrontational, and I sometimes think that people have lost a bit of their social skills because they haven't been in the public as much," he said.
Last week, Claussen's removed masking requirements for vaccinated customers, he said.
Working in the business isn't easy during more normal times either, he said.
"Horticulture is as hard as farming, so we consider ourselves farmers. We work seven days a week and we monitor the plants and the weather carefully all the time," he said.
Claussen's sells to a variety of small hardware stores, smaller flower shops and landscapers in addition to customers at the main greenhouse.
Over the last year, Claussen's customers have taken an interest in interior scaping, causing an increase in demand for house plants..
"Interior scaping is when someone uses plants in their office and home," Conant said. "With the pandemic, a lot of people are moving their offices into their homes and they want to make their homes more inviting."
Conant has found that when people aren't traveling, they tend to spend more money on their home.
"We have seen this trend not only during the pandemic, but also as the economy slows, people tend to spend more time at home and less time traveling," he said.
The demographics participating in the trend the most were 25-40-year-olds. 
Plants that are selling more as a part of the trend are String of Turtle Vine (Peperomia Prostrata), Monstera Splitleaf and Swiss Cheese philodendron, Conant said.