ESSEX -- The Essex Westford School District (EWSD) recently launched a few new programs, saw students get into the Halloween spirit with pumpkin-related activities, and had middle school students get a taste of the election process.
1. EWSD Child Nutrition Program starts offering free weekend meals
Beginning this Friday (Nov. 6), the Essex Westford School District will be offering free meals for all children 18 and under over the weekend. This service will be available from 4-6 p.m. at the Essex High School guidance lobby (to the right of the main entrance).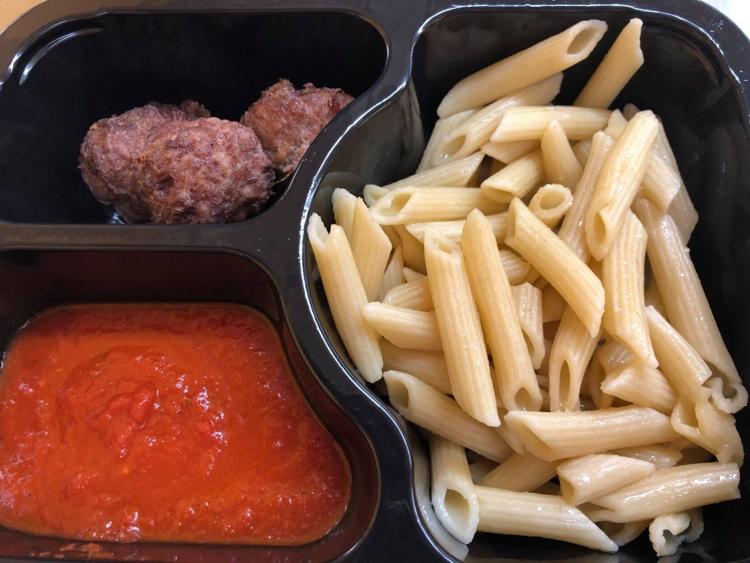 This will take place each Friday, through Dec. 18, except for Friday, Nov. 27. Over the next few weeks, the district will look at the number of meals served to determine if there is a need for the program and if it will continue.
The EWSD asks that traffic enter from Main Street and exit at Old Colchester Road. Pick up will happen at the entranceway to the guidance lobby, and those taking part will then share how many children they are picking up for and if any gluten-free or vegetarian options are needed. Child Nutrition will then place the meals on a table.
The EWSD will not be able to deliver these meals, but families who need them and are unable to attend are encouraged to ask a friend, neighbor, or family member to pick up meals for them.
EWSD asks everyone to please wear a mask and practice social distancing.
2. EWSD middle school students take part in mock election
The EWSD Remote Academy Middle School held a mock presidential election as a part of their recent unit on voting rights and the election. Voting started on Oct. 30 and wrapped up on Nov. 2, as students in the Remote Academy Middle School, Essex Middle School, and Albert D. Lawton took part.
During the week leading up to the election, students in the Remote Academy were able to speak with Lori Houghton, Vermont State Representative for Essex Junction, and John Sonnick, the presiding officer of elections for the town area outside of the village over Zoom and ask questions on voting and elections. "Because of the current situation (Covid-19), we are unable to have the election in person. Instead of paper ballots, we are using an online ballot," explained Logan, a seventh grader in the Remote Academy.
Eli, a sixth grader in the Remote Academy, volunteered for the job of ballot designer as a part of his participation on the Mock Election Planning Committee. Eli worked with his humanities teacher, Alison Levy, to learn how to create a Google Form and reviewed an actual Vermont ballot to make sure the mock election ballot was as close as possible to the ballot that Vermonters see at the polls.
All students in the Remote Academy Middle School were given the opportunity to participate in the design of the mock election by taking a survey. Students were surveyed to determine who should be allowed to vote, when voting should happen, how voters should cast their ballots, and what should be on the ballot.
One of the decisions students had to make was whether to collect names and email addresses the way teachers do for assignments. Eli's position was, "One of the things about voting is that no one knows how you voted. So we shouldn't ask students for their information either."
The results for some survey questions were overwhelmingly in agreement, such as all voting should take place online without the option to drop off ballots at school due to the pandemic. There was less of a consensus around other topics, though. Students debated adding the race to become Vermont's next governor but ended up deciding that, since that race was not a part of their studies, it didn't make sense to include. Voters should be informed before they vote, students explained.
On the question of who should get to vote, some students suggested that eighth graders know the most, so only they should vote, while others insisted that everyone in the Remote Academy, including all students and teachers, should be allowed to vote.
"It wouldn't be fair otherwise," the committee agreed. In the end, the Planning Committee decided by vote that all Remote Academy students, and their teachers, should be allowed to vote.
A total of 269 students participated, with the final results in favor of former Vice President Joe Biden by a tally of 208-61. The math worked out to be that 77.3 percent of students selected Biden, compared to 22.7 percent voting for President Donald Trump. These percentages were very close to how Chittenden County voted in the presidential election this year (76.2 percent Biden, 21.4 percent Trump) as well.
Other News and Notes
3. Painted Bob the FMS Bobcat pumpkin donated for guessing contest
The Essex Town Parent Teacher Organization (PTO) donated a painted pumpkin of Bob the Founders Memorial School Bobcat. All of the students were given the opportunity to guess the weight of the pumpkin to win a chance to take it home. There were three finalists who then guessed the circumference of the pumpkin. Kiley C. from Mr. Powell's class had the winning guess of 23 pounds and 36 inches. EWSD thanks the Essex Town PTO for the donation and especially Kate Miklus for her artist rendition of Bob the Bobcat.
4. ADL students contribute to Essex Rec pumpkin tower
Albert D. Lawton Intermediate School students volunteered their time to carve pumpkins for the Essex pumpkin display drive by at the fairgrounds on Halloween night.
5. Essex High GLP students talk with Irish ambassador to the U.S.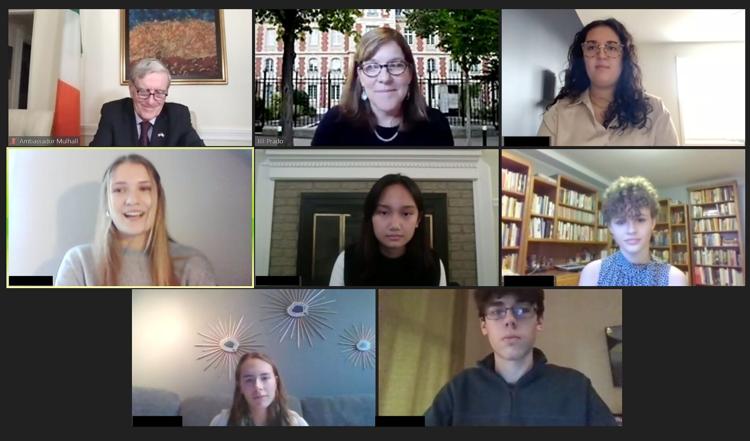 Global Leadership Program students at Essex High had a chance to virtually speak with Ireland's Ambassador to the United States Dan Mulhall last week, as he discussed his four decades of diplomacy and the world as it was then compared to now.
6. Former CTE student wins automotive award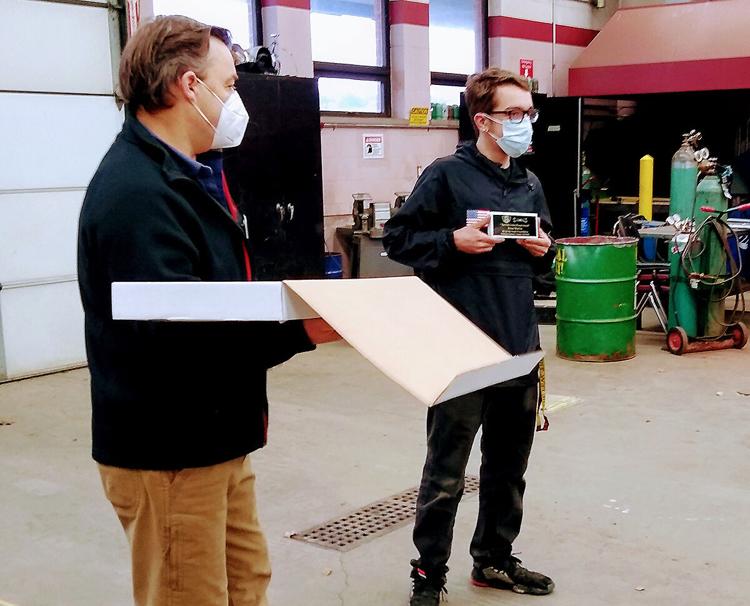 EWSD congratulates former Center for Technology, Essex student Jesse Martin who was recently honored with the 2020 Vermont Automobile Enthusiasts Golden Wrench Award. After finishing the CTE Auto I program in 2019, Martin went on to do a co-op at Goss Jeep in South Burlington for his senior year through the CTE Auto II program. One of the benefits of winning this award, besides the honor and prizes (learn more: bit.ly/2HNr59D), is that Martin will be able to take a lap at Thunder Road in a racecar sometime in the future.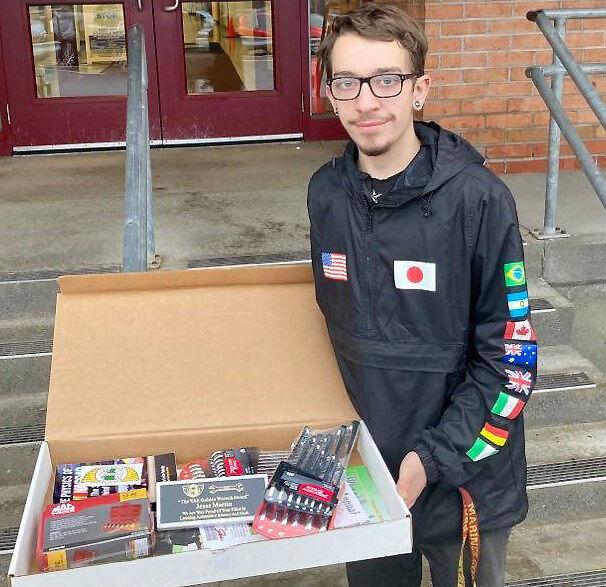 7. EWSD providing free special needs screenings, evaluations for children
The Essex Westford School District provides free screenings and evaluations for children through its early childhood special educators where a referral is received and evaluation is determined to be needed. For pre-kindergarten, the district seeks and receives referrals from a number of referral sources including families, pediatricians, private pre-kindergarten providers, its own pre-kindergarten classroom teachers, and others who come into contact with children. The EWSD also reviews data submitted by PreK providers under Act 166, as the district considers children in need of evaluation.
If families have any questions or would like to make a referral, they're asked to please contact EWSD Early Childhood Special Educator Liz Jordan-Shook at 802-857-2145 or ejordanshook@ewsd.org.