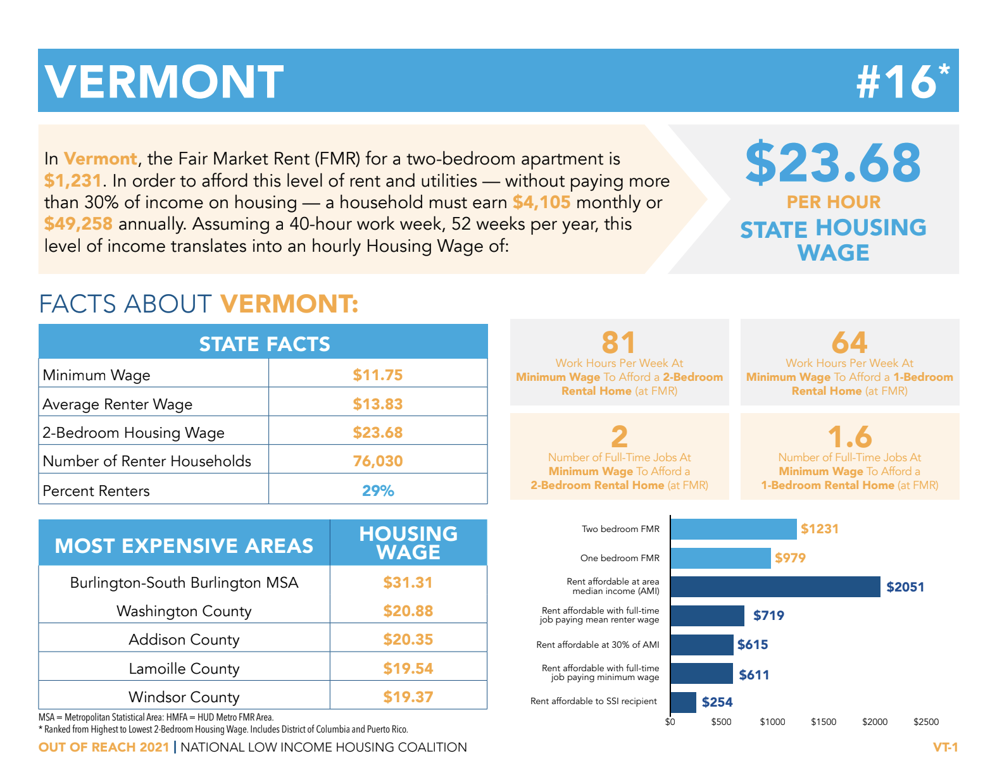 In order to afford a safe and decent place to live in Vermont, the average Vermonter needs to earn nearly double their hourly wage, facing the sixth largest affordability gap in the nation.
According to a new joint report by the National Low Income Housing Coalition and the Vermont Affordable Housing Coalition, the hourly wage a Vermonter should earn to afford a safe two-bedroom apartment is a whole $9.35 higher than the average Vermonter's hourly wage, making Vermont among the most expensive states for renters to live.
The average hourly wage of a Vermont renter is $13.83 while the wage to afford a comfortable two-bedroom apartment is $23.68, according to the report.
In other words, the average Vermont renter can afford a place for $719 per month, but the average two-bedroom rental home has a price tag of $1,231 per month. Even a one-bedroom apartment sits higher with the average statewide price at $979 per month.
Vermont's one-bedroom housing wage is $18.82, still $4.99 higher than the average hourly wage.
Vermont has the 16th highest housing wage in the nation as well as the 8th highest housing wage for rural areas.
"It is absolutely unacceptable to me that someone should have to work two jobs or pay over half their income to afford a decent place to live," said Senator Bernie Sanders in a July 14 press release. "We need more housing that everyday working Vermonters can afford. There is no question in my mind that housing is a basic human right."
The report cites difficulties faced by Vermont residents at large throughout the global pandemic pushing low-wage workers out of work as a force that has exacerbated the issue.
"The pandemic has only intensified the pressures on low-and-moderate income Vermonters, many of whom have lost wages and are facing an extraordinarily tight rental market statewide," said Cindy Reid, Chair of the Vermont Affordable Housing Coalition Steering Committee in the release. "The gap between average wages and the cost of housing is simply too high."