Vermont is never short on natural beauty, regardless of the season. It won't be long, and swimmers will be filling Vermont's swimming holes, eager to cool off on a hot summer day. Parking lots fill up quickly on warm days, so springtime can be a great time to visit these popular areas.
Are you ready for a road trip? Many of Vermont's waterfalls are a short walk from the car, making a waterfall tour an excellent option for a spring road trip. It's possible to see several of Vermont's most beautiful falls simply by driving down Route 100.
Last weekend, Adam and I took a tour of three waterfalls. I thought you'd enjoy seeing our roadside adventure, and I'd love to inspire you to take your own! We visited Moss Glen Falls in Granville, Warren Falls, and the Bolton Potholes.
Our first stop was Moss Glen was our first stop and the only one I haven't visited before. While there's no swimming allowed at Moss Glen Falls, Yadi did break the rules and wade into the frigid water at the outlet. He didn't lie down, so I'm assuming it was pretty chilly.
We visited in the morning, which wasn't a great time to photograph since the falls were bathed in brilliant sunlight. It did make for beautiful viewing, though, as the splashing water sparkled like diamonds in the sun.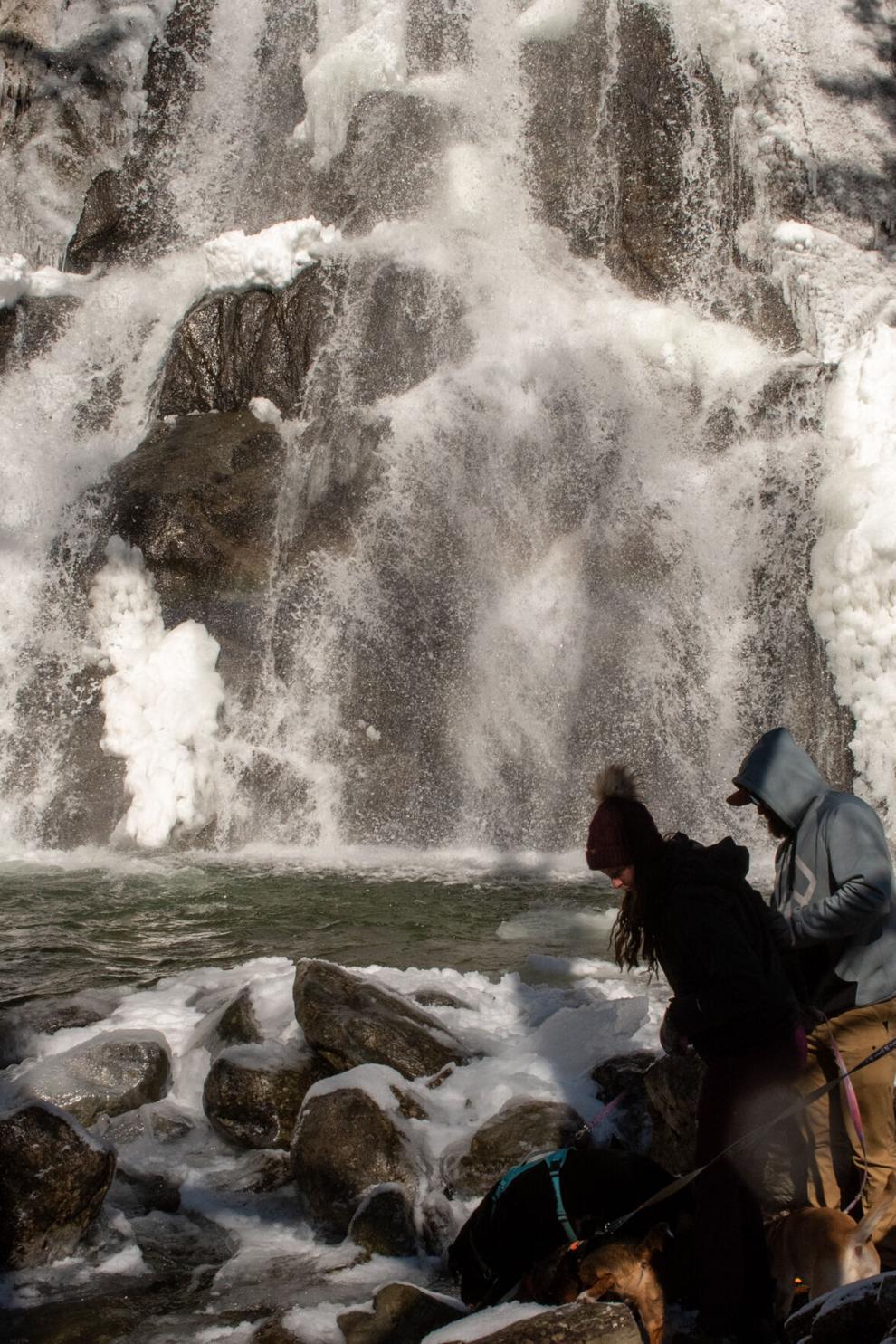 Our second stop was Warren Falls, one of two falls near Lincoln Gap Road. Warren is on the east and Bristol Falls on the western side of the Gap; both are stunning and excellent swimming spots in the summer.
Warren Falls is one of my favorite waterfalls in Vermont. I was giddy with excitement to visit in cooler temps, and my enthusiasm was amply rewarded! The water was roaring pleasantly over the first basin into the next, white and frothy as it fell into the glowing turquoise pools below. The rocks were clear of ice and easy for scrambling. That was good; I'd love to swim there in the summer, but not so much in early April!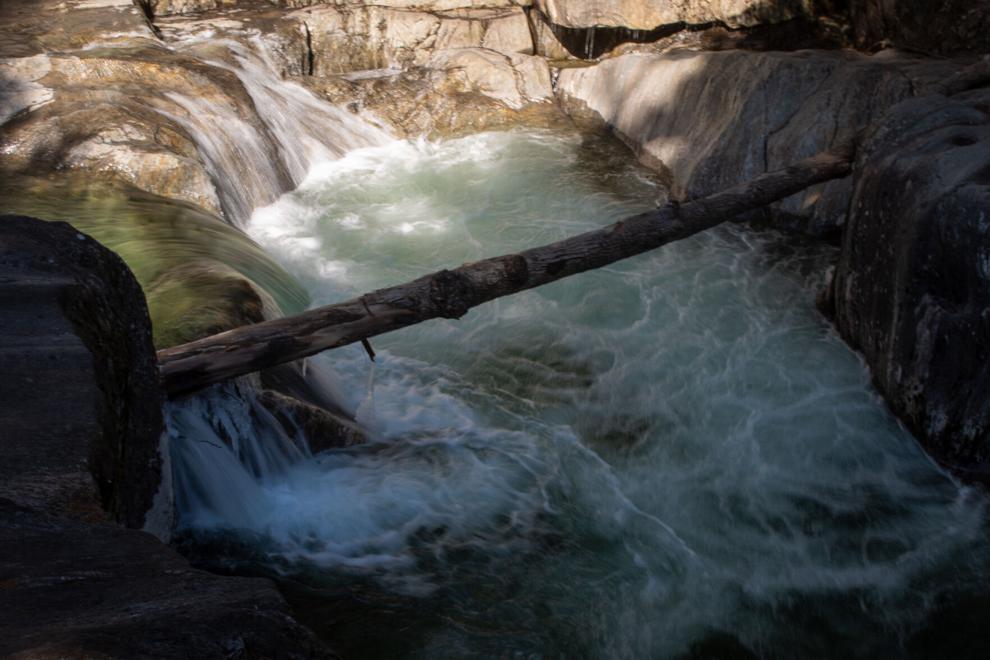 The Long Trail crosses at the Lincoln Gap; a trip up the LT North will bring you to the beautiful open summit of Mount Abraham. If you hike on a hot day, you can take your pick of swimming holes, as long as you can find a parking space. Last summer, I did just that, choosing a dip in Bristol Fall, post-hike.
Our final stop took us off Route 100 and through Waterbury. We parked in the small parking area, walked to the trailhead and the upper and lower falls. If you've never been here, it's a treat! The water plunges from above into an almost circular bowl; from there, it dives to a calmer pool below.
On this visit, icicles fringed the bowl's walls, and shadows kept the pool dark, even at noon. The final pool and the shallows were bathed in sunlight, and of course, Yadi helped himself to another swim in the calm, shallow water at the base. He's never one to pass up a good dip!