MONTPELIER – The Scott administration's twice weekly news conference saw officials foreshadow reopening schools' next steps as COVID-19 appears to continue only a slow spread in Vermont.
According to Vermont's education secretary Dan French, schools are expected to transition into more in-person class time in the coming weeks as COVID-19's spread in Vermont remains low.
In the meantime, according to French, districts are expected to prioritize students' social and emotional needs, a sentiment state officials have emphasized as they pushed for schools' partial reopening this fall after pediatricians stressed the social and emotional impacts of schools' March shutdown.
"Our priority now needs to be on the social and emotional well-being of our students," French said in his opening remarks Tuesday. Social and emotional needs, French added, would likely remain a priority through the pandemic.
In the meantime, guidelines are expected in the coming weeks for physical education and priorities for laboratory sciences and mathematics, with the expectation that they inform a focus on education to begin later this month, French said.
That time in school would be important, according to Vermont's education secretary, as state officials predict ongoing transitions in-and-out of in-person and remote learning as COVID-19 continues to circulate in the population.
"We also know, considering the prospect of flu season and moving to indoor schooling as temperatures get cooler, that we need to take advantage of this time in late September to maximize in-person learning," French said.
Health experts have continued warning of a possible "second wave" in cases of COVID-19 as public health measures loosen and colder temperatures bring people indoors, where COVID-19 can more easily spread between people.
It was a sentiment the Scott administration has largely shared as it allowed for businesses to reopen and public life to largely resume following initial shutdown orders in March, and one Scott returned to during Tuesday's press conference.
"Even though we are by far the safest state in the nation with the lowest number of cases and the lowest positivity rates, we know there will be bumps in the road and there will be cases tied to schools," the governor warned during his opening statement Tuesday.
With schools expected to continue transitioning between remote and in-person learning models through the remainder of the pandemic, French said the state's Agency of Education would be providing continued guidance for best educational practices informed by a taskforce staffed largely by educators.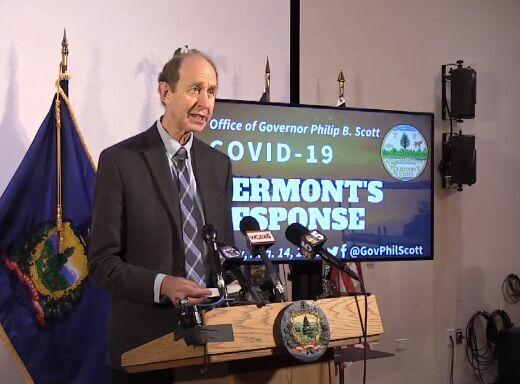 There would also be coming guidelines for student support systems, particularly for students with special needs.
According to health officials, COVID-19's spread in Vermont remains slow, with only a dozen cases reported over the long weekend and limited disease spread linked to either out-of-state college students' return to Vermont or an ongoing outbreak of COVID-19 linked to a private party in Killington.
Since COVID-19 was first seen in Vermont in March, 1,654 people have tested positive for the virus causing COVID-19 in the Green Mountain State. Fifty-eight have died due to complications of COVID-19, according to Vermont's health department.
According to Vermont's health commissioner Dr. Mark Levine, much of Vermont's success hinged on the state's testing regimen.
"Testing has been key to our ability to understand and track the presence of COVID-19 across the state and – with expert contact tracing, isolation and quarantine – to limit the spread of the virus," Levine told reporters during Tuesday's press conference.
The state's aggressive stance in favor of testing stands in contrast to recent changes in Centers for Disease Control and Prevention guidelines favoring testing for only those with symptoms of COVID-19 – an update health officials and experts previously balked at.
According to Levine, testing in Vermont will be expanding through a pilot program with the drug store chain Kinney Drugs and the University of Vermont Medical Center.
Scott, in his own opening remarks, placed Vermont's reported success in avoiding the significant outbreaks of COVID-19 seen elsewhere in the U.S. at least in part on the state's testing regimen, adding that he continued to see testing as "critical" to Vermont's response to COVID-19.
"A strong testing system, and using these tests to activate our contact tracing team, is key to finding and containing cases and clusters before they become outbreaks, which is critical to keeping our schools and economy open," Scott said.